No bake Peanut Butter cheese cake. These easy no-bake cheesecakes are quick to make, and guaranteed to please. It's an easy dessert that takes just minutes to prepare. This no-bake cheesecake is a scrumptious & chocolatey dessert that is perfect for you and your guests.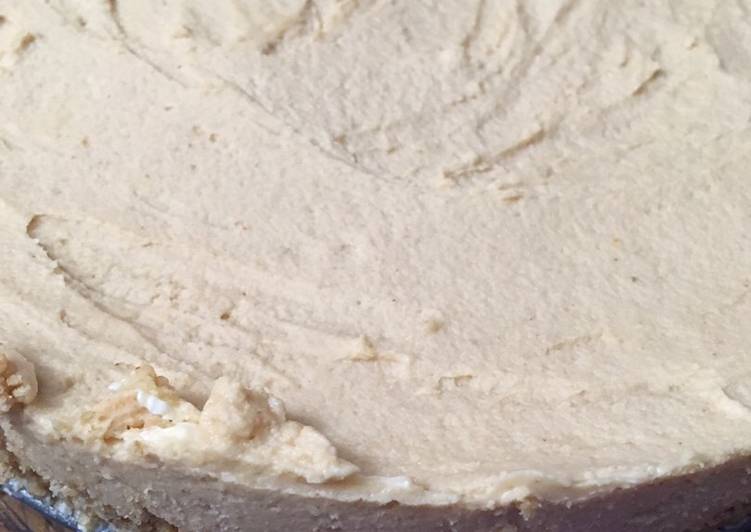 It's a delicious no-bake dessert you can enjoy. I'm going to be honest with you. Place graham crackers into a plastic bag and crush them into fine crumbs with a rolling pin. You can have No bake Peanut Butter cheese cake using 15 ingredients and 9 steps. Here is how you cook that.
Ingredients of No bake Peanut Butter cheese cake
It's of For the crust.
Prepare 1-1/4 cups of Ground Graham Crackers.
It's 6 Tbsp of Unsalted Butter, at room temperature.
You need 1/4 cup of Peanuts.
Prepare 1/4 cup of Granulated Sugar.
You need of Filling.
You need 2 (8 oz) of Blocks of Cream Cheese, softened at room temperature.
It's 1 cup of Confectioner Sugar.
Prepare 1-1/2 cups of Smooth Peanut Butter.
It's 1/2 tsp of Vanilla Extract.
You need 1/4 cup of Heavy Cream.
Prepare of For the topping (optional).
Prepare 1/3 cup of Heavy Cream.
It's 4 oz of Semisweet Chocolate Chips.
You need 1 tsp of Butter, softened at room temperature.
Best of all, this cheesecake recipe is completely no bake so there is no need to turn the oven on. I don't know about you but I love a good no bake dessert – especially one this irresistible! See if you can eat just one slice! This no-bake recipe is great for summer time, as it doesn't require you to turn on your oven.
No bake Peanut Butter cheese cake step by step
In a food processor, add all the ingredients for the crust and whiz it up until everything is finely crushed and when you pinch the mixture together, it holds well..
Press the mixture in the bottom and one inch up the sides of a 9" springform pan, set it in the fridge..
In the bowl of a standing mixer fitted with a paddle attachment, add the cream cheese and peanut butter and mix it on medium speed for about 2 minutes..
Add the remaining ingredients and keep mixing for another minute or so or until you have a smooth batter..
Pour the batter into the prepared crust, cover the top of the pan with a plate and set it in the fridge overnight..
About an hour before you are ready to serve it, make the ganache..
In a small saucepan, add the cream and bring it to a simmer..
Pour the cream in a bowl with the chocolate chips and let it sit for about 3 minutes..
Whisk it all together until the chocolate chips have melted, whisk in the butter as well. Place it back in the fridge for about an hour to set a bit. Remove the sides of the springform pan, and serve. Wipe your knife in between cutting each slice so that all the slices come out nice and neat..
It also comes together very quickly, so it's a great recipe if you are invited to a list minute BBQ. They were surprised when I told them the crust is made of pretzels.