Oreo's no-bake Cheesecake. An easy No-Bake Oreo Cheesecake with an Oreo crust. This simple no-bake cheesecake makes a perfect dessert for any time of year! Oreo no bake cheesecake is a simple and delicious dessert.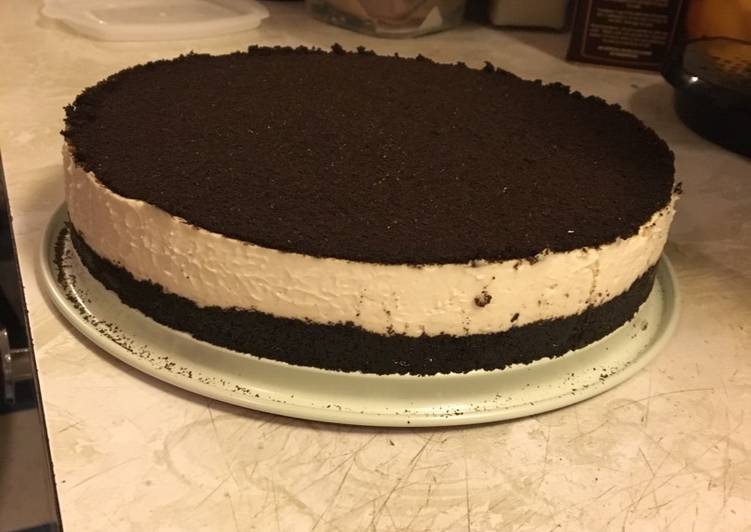 Just be careful around it – before you know it you might eat half a pie! This is my favorite NO BAKE Oreo Cheesecake – it's such an easy cheesecake filling with an Oreo crust. This No Bake Oreo Cheesecake is made with just a few ingredients! You can cook Oreo's no-bake Cheesecake using 7 ingredients and 3 steps. Here is how you achieve that.
Ingredients of Oreo's no-bake Cheesecake
It's 36 of Oreo's cookies.
Prepare 5 Tbs. of Butter.
It's 3-3/4 of slabs of Cream Cheese.
It's 1/3 cup of sugar.
Prepare 1 Tbs. of Vanilla Extract.
You need 1 cup of milk (warmed).
You need 1 packet of Gelatin (about 1 Tbs.).
It's so silky smooth and loaded with chunks of Oreos. The no bake dessert for summer! You'll love this easy No Bake Oreo Cheesecake recipe! Made with an Oreo crust and a simple cheesecake filling that's packed with Oreo crumbs & chunks of Oreo!
Oreo's no-bake Cheesecake step by step
Prep: Separate Oreos away from cookie and cream in two separate bowls..
Put the cookies in a food processor and pulverize cookie to dust. Put crushed cookies in bowl. Take 1/2 cup of cookie dust and set it aside for later. Melt butter. Add butter to crushed cookie in bowl. Mix to get the consistency of wet sand. Dump "wet sand" in a spring form pan. Flatten evenly the bottom of pan, locked. Set aside..
In a sauce pan on medium high heat, add cream cheese, Oreo cream, sugar and (clear, if you have it) vanilla extract. Stir till smooth, no lumps! Meanwhile, put milk in microwave for 30 seconds. Add gelatin to milk and stir to combine thoroughly. Add to cream cheese mixture. Cook and stir till boil. Remove from heat and add mixture to spring pan. Smooth out till flat. Add 1/2 cup extra cookie dust on top to cover completely. Refrigerate for 4 hours before serving. Enjoy!!!.
This No Bake Oreo Cheesecake is the ultimate cookies and cream dessert. With a crunchy Oreo crust and a creamy cheesecake filling, it's so easy to make! You don't even need to turn the oven on. This recipe for no-bake chocolate Oreo cheesecake makes a decadent, tempting chocolate cheesecake that's loaded with Oreo goodness! The Easiest, Most Indulgent No-Bake Cheesecake You Will Ever Make!