S'mores Cookie Cups.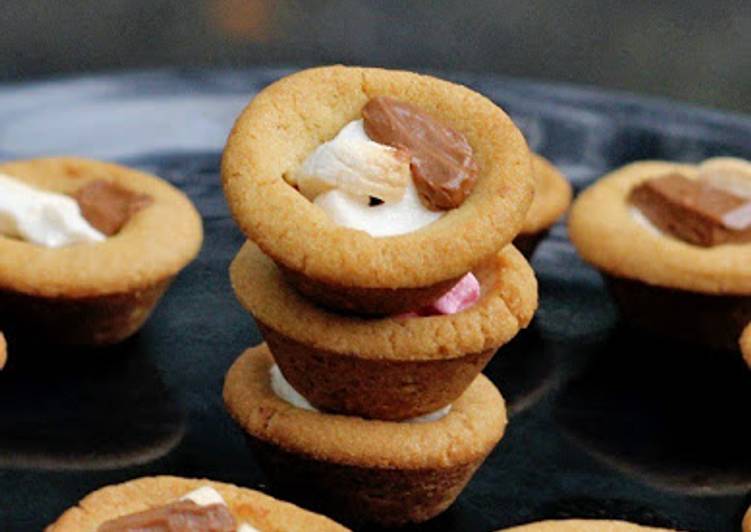 You can have S'mores Cookie Cups using 10 ingredients and 17 steps. Here is how you achieve it.
Ingredients of S'mores Cookie Cups
You need 1/2 cup of Butter (100 grams) , soft at room temperature.
You need 2/3 cup of Brown Sugar Powdered (or use regular powdered sugar) *adjust for sweetness.
You need 1 teaspoon of Vanilla Extract.
It's 1 Tablespoon of Condensed Milk Yogurt / plain (egg substitute).
It's 1 and 1/3 cup of All Purpose Flour.
You need 1/4 cup of Biscuits Cookies crushed Graham Crackers / Plain / (for an extra crunch) *see note.
You need 1/2 teaspoon of Baking Soda.
It's 1/2 teaspoon of Salt.
It's of Marshmallows Marshmallows Mini / Chop into tiny bite sized pieces.
Prepare of chocolate Hershey's / Other bars chopped into tiny squares.
S'mores Cookie Cups instructions
In a bowl, mix together the flour, salt, baking soda and crushed graham crackers, set aside..
Cream together the butter with sugar, add the condensed milk and vanilla and mix until combined..
Add the dry ingredients and mix until your dough has come together..
Preheat the oven to 180 C. Take mini cupcake molds and grease them well with melted butter / vegetable oil..
Take a mini ice cream scoop or 1 tablespoon measure spoon and scoop out the dough. Roll it into a neat ball and place on the cupcake mold. Repeat with all the cupcake holes..
Press the dough into each little cup using a spoon / back of a rollin pin or anything that will make an indent in the center..
Bake them for about 7 to 9 minutes or until lightly golden brown around the edges, remove from the oven and turn your oven on to broil. Re-enforce the indent with the back of your rolling pin on each cookie cup..
Place a small piece of chocolate at the bottom of each cookie cup followed by a few mini marshmallows and pop them under the broiler for about a minute or until the marshmallows start to lightly brown..
Remove from the oven and immediately top them with another little piece of chocolate..
Allow to cool slightly before removing from the pan gently..
Store in air tight container up to 3 days..
Preferably use Condensed milk for a better texture. Yogurt can make the cookie cups slightly softer. If you like the soft-cookie texture, you can use yogurt.
Brown sugar gives a better taste. But any kind of powdered sugar is acceptable in the recipe.
Using graham crackers gives an extra crunch to the cookie cups. If you cant find graham crackers, use any kind of crunchy biscuits / cookies / crackers you can find. Or ski[p it altogether..
If your oven doesn't have a broil function, simply keep in the bake mode & continue to bake..
If you want softer cookies, bake for about 6 – 8 minutes. I like my cookies on the crunchier side so I baked for 8-10 minutes..
The baking time really depends on your oven and how you like your cookies. So keep an eye out on the cookies from the 6th minute onward..