Chewy Chocolate Chip Granola Bars. Chocolate chip granola bars are a staple in my pantry, but between my husband, my kids, and my kids' hungry friends, I can't seem to keep enough of them in the house. So I figured it was time to try and make them from scratch, and maybe even sneak in some health food. These granola bars pack well for mid-day snacks or hiking trips.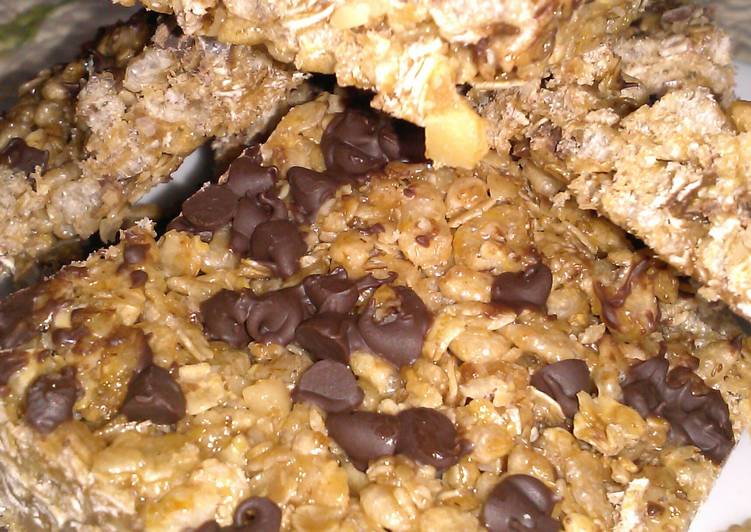 Chocolate Chip Chewy Granola Bars are made with delicious grains you'll love. Nothing gets chocolate lovers cheering like a Chocolate Chip Quaker® Chewy Bar. Every chewylicious bite is made with real, mouth-watering. You can have Chewy Chocolate Chip Granola Bars using 10 ingredients and 6 steps. Here is how you cook it.
Ingredients of Chewy Chocolate Chip Granola Bars
Prepare 6 tbsp of unsalted butter.
Prepare 1/3 cup of dark brown sugar.
Prepare 1/4 cup of + 2 TBSP. honey.
You need 1 1/2 tsp of vanilla extract.
Prepare 1/8 tsp of salt.
You need 2 cup of quick oats( instant cooking).
You need 1 3/4 cup of rice krispies.
Prepare 1/2 cup of almonds ( I used walnuts) – chopped finely.
You need 1/4 cup of wheat germ.
Prepare 1/3 cup of chocolate chips.
A simple and delicious gluten-free recipe! Pre-packaged, too sweet, milk chocolate granola bars at lunch and before volleyball practice. Same great taste. (Packaging may vary) Flavor:Chocolate Chip. You'll be the hero of your household when your kids find Quaker Chewy.
Chewy Chocolate Chip Granola Bars step by step
Line a 13×9 pan with alumium foil. Leave a little over hang. Spray lightly..
In a large pot. Combine butter, brown sugar & honey..
Bring mixture to a boil.over medium high heat. Stirring constantly. Lower heat . Simmer until mixture is dissolved & slightly thickened. About 2 min. Remove from heat. Add vanilla and salt..
Add oats – rice cereal. – nuts- wheat germ to pan. Fold until combined..
Transfer mixture to your prepared pan . Press down lightly with a spatula to even out. Sprinkle choc. Chips over top. Press down so chips stick in place..
Place in fridge 90 min up to 2 hrs.To chill.Use foil overhang to transfer to cutting board. Cut into retangles..
The easiest Granola Bar Recipe you'll ever make! Made with oats and rice cereal and a sweet and chewy coating. No artificial flavors or preservatives in. Once you try this incredibly simple recipe for granola bars it's likely you'll no longer be buying that boxed version at the grocery store anymore. In a large mixing bowl, combine the oats, rice cereal, coconut oil, honey, brown sugar, salt, and vanilla until evenly mixed.