Honey Joy (Cornflake Cookies). Honey cornflakes cookies are the easiest to prepare. Involve the kids and have a great time together making them. Honey coated crispy cornflakes, topped with cherries.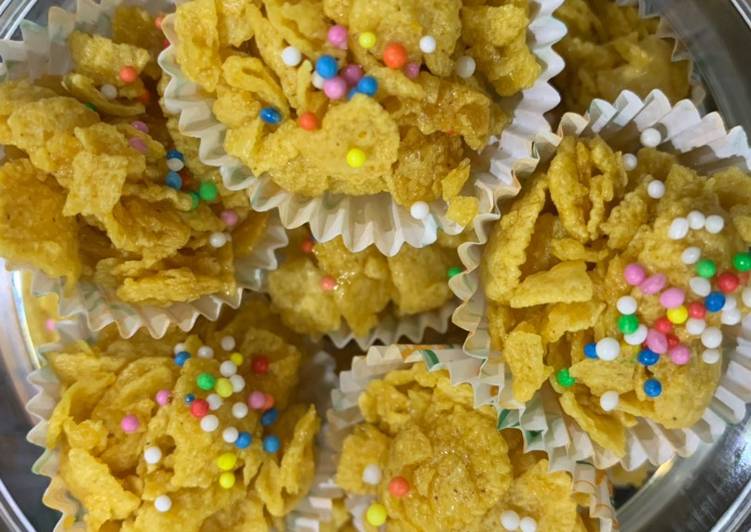 Honey Joys are an Australian kids party treat made from Corn Flakes, so simple and easy to make, like Rice Krispy Squares! It seems that Honey Joys are a staple at kids birthday parties and at school fetes, or bake sales. This Honey Joys recipe is super easy to make, and absolutely delicious. You can have Honey Joy (Cornflake Cookies) using 4 ingredients and 3 steps. Here is how you cook it.
Ingredients of Honey Joy (Cornflake Cookies)
Prepare 2 tablespoon of honey.
You need 50 gram of butter.
Prepare 150 grams of cornflakes gently crushed to smaller pieces.
It's of Coloured sprinkles or hundreds-and-thousands.
Enjoying Honey Joys with a coffee This is a very, very easy to make and tasty gluten-free recipe. Add corn flakes and mix until thoroughly combined. Gluten-Free Corn Flakes Being Added to Frothing Ingredients.
Honey Joy (Cornflake Cookies) step by step
Over gentle heat, melt butter and honey in saucepan until the mixture is frothy.
Add crushed cornflakes into the honey butter mixture and stir to coat the cornflakes evenly..
Spoon cornflakes into individual mini baking cases and top with coloured sprinkles. Bake at preheated oven of 150°C for 10-12 minutes, or until the cornflakes turn a darker shade of golden. Once cooled, store them in an airtight container..
The delicious taste of honey combined with the crunch of Kellogg's® Corn Flakes makes this treat a family favourite. These sweet little morsels are so easy to make and are a great party food. Healthy Honey Joys/Cornflake Cookies – a childhood party favourite that's now gluten free, low fat, clean eating friendly, sugar free and SO delicious! Kristy shares a healthy version of a childhood favourite – Healthy Honey Joys or Cornflake Cookies! How to Make Aussie Honey Joys – Corn Flake Cookies.