Cookies and Creme Cupcakes. This cookies and cream cupcake recipe starts with a moist and fluffy vanilla cake then add in lots of oreos! Learn our tips for making It makes the world of a difference when you have a moist, flavorful cake base. I adapted our white cupcake recipe for this oreo.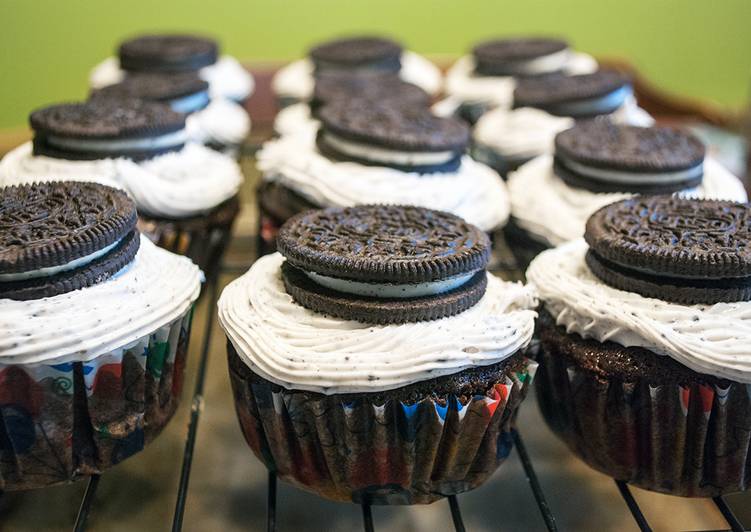 These cupcakes are all kinds of amazing because they are chocolate. Hi everyone, it's Jenn from Deliciously Sprinkled! These cookies and cream cupcakes are made using the Perfect Vanilla cupcake recipe on the site from last year. You can cook Cookies and Creme Cupcakes using 13 ingredients and 9 steps. Here is how you cook it.
Ingredients of Cookies and Creme Cupcakes
It's 1 1/2 Cups of All-purpose Flour.
You need 1/2 Cup of Cocoa Unsweetened powder.
It's 1 1/4 Cups of Sugar.
Prepare 3/4 Teaspoon of Baking Soda.
Prepare 1/2 Teaspoon of Baking Powder.
Prepare 1/2 Teaspoon of Salt.
It's 2 of Eggs.
Prepare 1/2 Cup of Vegetable Oil.
Prepare 1 Teaspoon of Vanilla.
It's 3/4 Cup of Milk.
You need 3/4 Cup of Water , hot.
Prepare 24 of Oreos.
It's of 1 can of whipped icing.
These Cookies and Cream Cupcakes are loaded with not just chunks of oreo, but an entire oreo on the bottom. Topped with more cookies & cream crumbles, of course. I recently made Very Vanilla Cupcakes. A strikingly white cupcake full of delicate vanilla flavor.
Cookies and Creme Cupcakes step by step
Preheat oven to 350 degrees F..
Line cupcake tin with baking cups..
Break apart at least 12 cookies and place the broken pieces in the bottom of the cups..
Mix flour, cocoa, sugar, baking soda, baking powder, and salt in a large mixing bowl using a wire whisk..
Add the eggs, oil, vanilla, and milk. Mix well until thoroughly combined. Add the hot water and mix until combined..
Transfer the batter (it will be very runny and liquidy) to a large measuring cup and pour batter into each baking cup so it's about 3/4 full..
Bake for 16-18 minutes..
Add about 2 teaspoons (or more if you'd like) cookie crumbs to the can of frosting and mix..
Apply frosting and top with a cookie..
Cake is not my favorite treat, which is one reason I like cupcakes so much. I feel they are the perfect portion size, and sometimes I cannot even finish a full one. That is sooo not the case with. I made these cookies and cream cupcakes using my very favorite vanilla cupcake recipe. It's the one I use as a base for most of my cupcakes, and it always gives me flawless results!