Mini Cheesecake Cups. Enjoy cheesecake anytime with Philly Cheesecake Cups. No prep, just open and enjoy. Compare Prices on Mini Cheesecake Cups in Bakeware.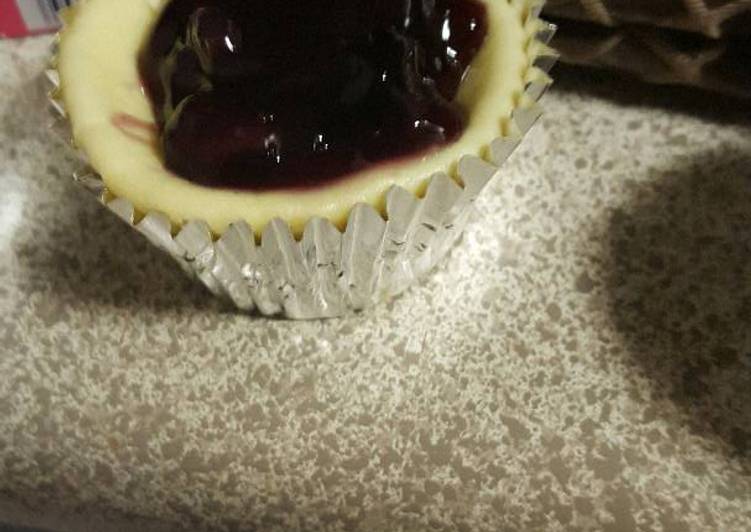 Add eggs, one at a time, beating well after each addition. I love making mini cheesecakes rather than a whole cheesecake. Whole cheesecakes can be quite intimidating. You can have Mini Cheesecake Cups using 8 ingredients and 6 steps. Here is how you achieve that.
Ingredients of Mini Cheesecake Cups
Prepare 12 of vanilla wafers.
You need 3 oz of cream cheese (room temp).
It's 12 oz of fat free cream cheese (room temp).
It's 1/2 cup of sugar.
You need 1/2 teaspoon of vanilla.
Prepare 2 of eggs.
It's of Foil cupcake wrappers.
Prepare of Your choice of pie filling.
Super easy to make and the perfect portion size. These Cheesecake Cupcakes are made in a muffin pan with cupcake liners. They are similar in size to a cupcake. This is an easy, fun recipe for cheesecake, but it needs more precision.
Mini Cheesecake Cups instructions
Preheat to 350; line one cupcake tray with foil cupcake wrappers. Place a wafer in each wrapper..
Combine cream cheese and beat until smooth. (Takes a bit of patience. I usually smash it up with a rubber spatula as much as I can before using a mixer, the mixer will come to a halt so be careful).
Add sugar and vanilla and mix well.
Add eggs and mix well.
Pour batter into wrappers and bake for 20 minutes or until center is almost set. Cool and refrigerate for at least two hours..
Add pie filling to the craters. I do this before i eat them so I choose how much I want on the cheesecake and refrigerate the rest of the filling and cover it with plastic. This way you can refrigerate the cheesecake without pie filling mess in your fridge. I use blueberry!.
Add all the crust ingredients to a small bowl and stir till combined. Divide the crust evenly between the dessert cups and mush it down with your fingers or back of a spoon till it's evenly spread and flattened to the bottom of each cup. Place one vanilla wafer, flat-side down, on bottom of each cup. BEAT cream cheese, sugar and flour in large mixer bowl until creamy. Add eggs and vanilla extract; beat well.