Cookie Monster Cupcakes. Celebrate Every Occasion W/ Our Delicious Cupcakes. Grab A Box For Your Next Party! Easy Cookie Monster Cupcakes perfect for a Cookie Monster or Sesame Street birthday party!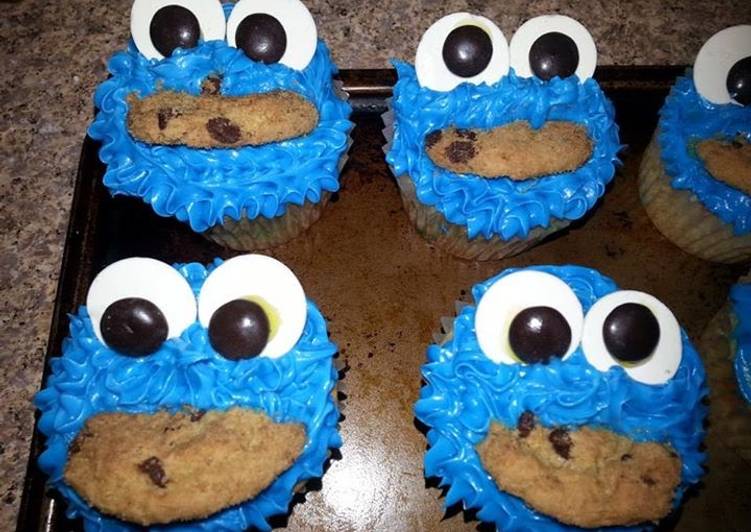 My Cookie Monster cupcakes look difficult to make; however, they are actually very simple to whip out! I learned how to decorate cakes from my grandma, and she always taught me that the more complex-looking cupcakes are often the easiest to make. I originally made these cupcakes for my cousin's birthday. You can have Cookie Monster Cupcakes using 7 ingredients and 5 steps. Here is how you cook it.
Ingredients of Cookie Monster Cupcakes
It's 1 box of your flavored cake mix.
You need 1 can of royal blue icing (wilton or betty crocker).
Prepare 4 of chocolate chip cookies.
Prepare 16 of white chocolate melt pieces.
You need 16 of brown m&m's.
Prepare 1 of tube icing white or yellow.
Prepare 1 of cupcake liners.
See more ideas about Desserts, Dessert recipes, Food. These cute cookie monster cupcakes would be perfect at a Sesame Street birthday party! They are made from scratch BUT this recipe is super fun and easy to make. Your own little cookie monsters will be ecstatic over these cupcakes.
Cookie Monster Cupcakes instructions
prepare your cupcakes as directed on box. this can of icing only makes about 8 cupcakes if you want this effect..
once cupcakes are cooled, you'll want to use the star tip on the attachments of the icing. I like to start in the middle pressing down and bring up..keep going to you fill in as liked..
for the mouth I break the chocolate chip cookies in half, cut a small line where your going to insert cookie so that its stable and apply cookie..
for the eyes stick your white melts right were u want the eyes now add a drop of icing and attach m&m's..I put one up down, cross eyed for a cuter effect..
the kids will sure to love & simple to make..
The kids had a blast taking the cookies out of his mouth and going, "Me. Easy to make, and loved by all ages! Serve with Cookie Monster Ice Cream for the ultimate treat. Just like my Minion and Mermaid Cupcakes these are super fun to make with kids! These cupcakes were inspired by a few things: Cookie Monster, of course.