Cookies and Cream Cheesecake Cupcakes. Celebrate Every Occasion W/ Our Delicious Cupcakes. Grab A Box For Your Next Party! Taste: The combination of cookies and cream (cheese) is a near perfect pair in these cookies and cream cheesecake cupcakes.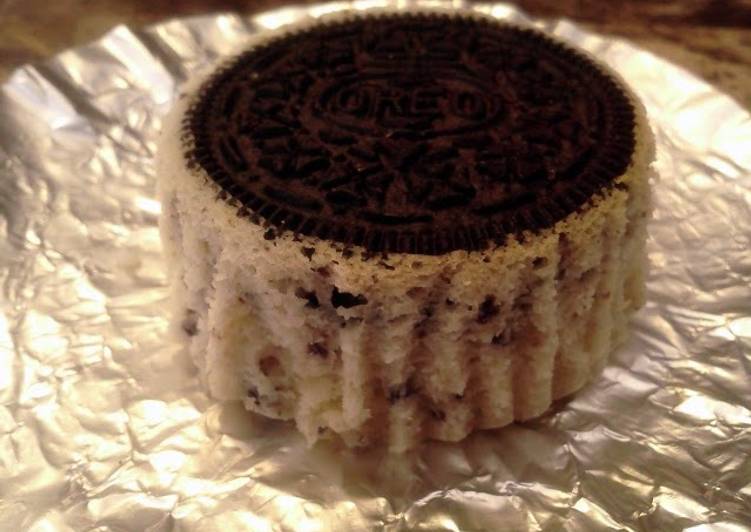 Cookies and Cream Cheesecake Cupcakes, sounds like a mouthful and it certainly is. Albiet a sinful, decadent and deliciously messy mouthful. What could be bad about combining cookies and cream. You can cook Cookies and Cream Cheesecake Cupcakes using 7 ingredients and 17 steps. Here is how you cook it.
Ingredients of Cookies and Cream Cheesecake Cupcakes
You need 30 of oreos (24 whole and 6 crushed).
Prepare 1 lb of cream cheese (2-8oz) at room temperature..
You need 1/2 cup of sugar.
It's 1/2 tsp of vanilla extract.
It's 2 large of eggs.
It's 1/2 cup of sour cream.
Prepare 1/4 tsp of salt.
Gradually add sugar and beat until combined. Add in eggs one at a time, beating to combine. Beat in sour cream and salt. Stir in chopped oreos by hand.
Cookies and Cream Cheesecake Cupcakes instructions
this recipe makes 24 cupcakes.
preheat oven to 275°F.
line cupcake tin with cupcake papers.
place a whole cookie into each paper and set aside..
with an electric mixer on medium high beat cream cheese till smooth..
gradually add sugar and beat until combined..
beat in vanilla.
whisk the eggs in a measuring cup and drizzle into cream cheese mixture a little at a time..
beat well and scrape down sides as needed..
beat in sour cream and salt. it should be very creamy at this point..
stir in chopped cookies by hand..
divide batter into cups evenly. fill almost to the top of cups..
bake on middle rack rotating half way through until filling is set. about 22 minutes. I set my timer for 11 minutes rotated the baking pan and then set for 11 more minutes..
transfer to a wire rack and allow to cool to room temperature. when they reach room temp. transfer to the fridge..
refrigerate at least 4 hours. or overnight.
remove from pan just before serving..
if wanted serve with whipped cream on top with a little crushed cookie :).
Fill cups almost to the top. Place a cookie in the bottom of each cup of a lined muffin tin. In a stand mixer, beat cream cheese. Cookies & Cream AND Cheesecake join forces to create one delicious (gluten free!) dessert. Add the mixture to the bottom of a springform pan.