Orange Pistachio Biscotti FUSF. These crisp biscotti are chock full of pistachios and are flavored with orange. Based on a review that said these spread out a lot I made two perfectly round logs (the hand-wetting tip worked perfectly). Traditional biscotti cookies filled with orange zest and roasted pistachios.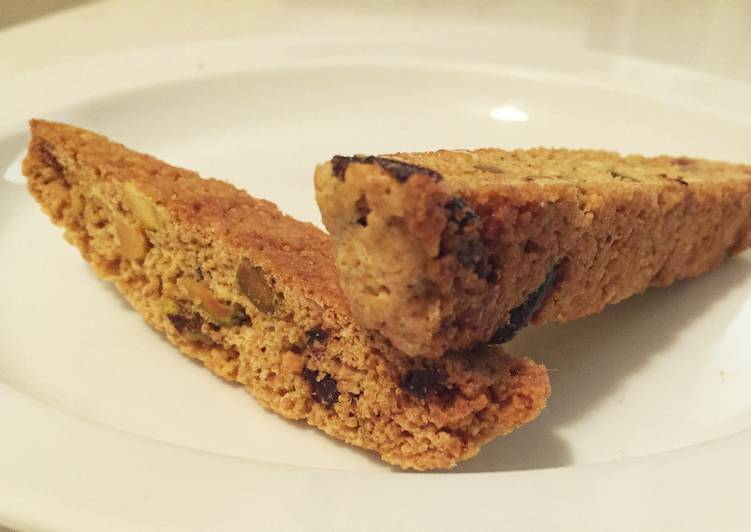 Pistachio-Orange Biscotti recipe: Try this Pistachio-Orange Biscotti recipe, or contribute your own. These Cranberry Orange Pistachio Biscotti are the perfect seasonal cookie to enjoy with coffee and are so easy to make. When deciding what flavors to add to the biscotti, I went with cranberry, orange and pistachio as they are all ingredients you find around this time of the year and orange. You can cook Orange Pistachio Biscotti FUSF using 11 ingredients and 9 steps. Here is how you cook that.
Ingredients of Orange Pistachio Biscotti FUSF
Prepare 1 1/3 cups of dried cranberries.
It's 2 1/2 cups of flour.
It's 1 cup of sugar, I used 7/8 cup.
You need 1/2 tsp of baking soda.
You need 1/2 tsp of baking powder.
It's 1/2 tsp of salt.
Prepare 3 of large eggs.
You need 1 tsp of vanilla.
It's of grated zest of one orange.
It's 1 cup of natural shelled pistachios, salted or not.
Prepare 1 of large egg lightly beaten with one tsp of water for egg wash.
The perfect festive foodie gift for all those with a sweet tooth! Place the dough in a bowl and use your hands to mix in the candied orange peel and pistachios. These Pistachio & Orange Biscotti have an elegant flavor and are great to nibble on with a cup of coffee and a good book. Add the eggs, one at a time, beating well after each one.
Orange Pistachio Biscotti FUSF step by step
Soak cranberries in boiling hot water to cover until softened for 10 minutes. Drain, then pat dry with paper towels..
Preheat the oven to 325. Butter and flour a large baking sheet. Mix the flour, sugar, baking powder and soda, salt and orange zest in a large bowl using an electric mixer..
Add eggs and vanilla and beat just until a dough forms. It takes awhile..
Add cranberries and pistachios and mix at a low speed..
Turn out on a floured surface and knead several times. Halve the dough, then form each half into a 13 x 2 inch slightly flattened log and space them 3 inches apart. Brush the logs all over with egg wash..
Bake in the middle of the oven for 25 to 30 minutes.
Cool the logs on the baking sheet for ten minutes. Transfer to a cutting board and slice diagonally with a bread knife into 1/2 inch thick slices. Arrange the slices cut sides down in one layer on a rimmed baking sheet, a jelly roll pan works well..
Bake in the middle of the oven turning once after 10 minutes, until golden and crisp, 20-25 minutes..
Enjoy..
These biscotti are made with a very thick and heavy cake batter and even though they have pistachios and cranberry and orange flavors, the Everyone has personal preferences for biscotti and I enjoyed these. Individually packaged with expiration date on each. Nice size and a little softer. Choose from pistachio and cranberry, hazelnut and date or chocolate and orange biscotti (if you can). Perfect for dipping in a molten mocha sauce.