Peanut Butter Chip Cheesecake Brownies. Our delicious Cheesecake Brownie recipe combines fudgy brownies and creamy cheesecake. In a bowl, stir the chocolate and oil. Stir until chocolate is completely melted and mixture is well blended.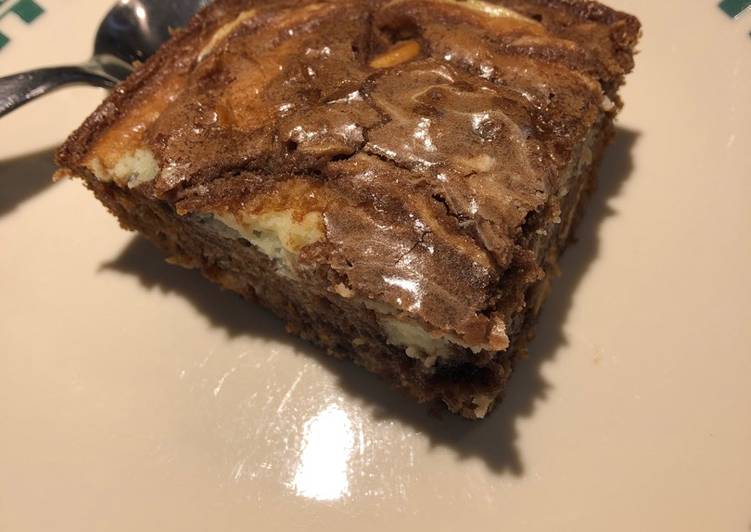 Add eggs, one at a time, beating well after each addition. Combine flour, baking powder and salt; gradually add to creamed mixture. Find lots of variations on this popular, easy-to-bake treat. You can cook Peanut Butter Chip Cheesecake Brownies using 8 ingredients and 11 steps. Here is how you achieve that.
Ingredients of Peanut Butter Chip Cheesecake Brownies
It's 1 box of brownie mix (I used an 18 oz box).
You need 1 (8 oz) of package cream cheese, softened.
You need 1 of egg.
It's 1/3 cup of white sugar.
It's 1/2 cup of peanut butter chips(or more if you would like).
It's 1 teaspoon of vanilla extract (you can use imitation also).
Prepare 9 of x 13 inch baking pan(I used a glass baking pan).
You need of Butter cooking spray.
This recipe will be your first choice when you need an ooey gooey homemade dessert that everyone will go crazy over!… Turn off the heat and add chocolate chips, pushing the chips into the cream until almost completely covered. Place the lid on the sauce pan and let sit on the stove. Cool the ganache to room temperature, then spoon a dollop of the ganache over each. Ice cream for his birthday seems to be a theme (especially considering I made him an carrot cake ice cream cake one year).
Peanut Butter Chip Cheesecake Brownies instructions
Prepare brownie mix as directed on package but DO NOT BAKE…… the baking step will come later !.
Gently fold in your peanut butter chips and the vanilla extract, set this off to the side….
It should look like this….
In a separate bowl using an electric mixer beat the cream cheese and sugar together with the egg until it's a smooth consistency…….
Preheat oven to 350 degrees….Spray baking pan with butter nonstick cooking spray…….
Spread HALF of brownie mix into bottom of prepared baking pan…….
Dollop cream cheese mixture over half of brownie batter……
Pour other half of brownie mixture over cream cheese mixture.
Using a dull butter knife gently swirl cream cheese mixture into brownie mixture……you want it to have a marbled look…..
Bake in your 350 degree oven between 20 – 23 minutes…. you'll know it's done when you insert a toothpick into the middle of it and it comes out nice and clean…….
Cool for 20-30 minutes, cut into bars, eat and enjoy 😉!.
Pour the cheesecake filling into prepared brownie bottom crust. Double-wrap Springform pan with foil to prevent water getting in. Wrap the foil up the sides so that the seam of the pan bottom and springform side is covered- top uncovered. Mix together cheesecake batter ingredients in a small bowl until smooth. Drop over brownie batter, (getting it all the way to edges, which I kinda failed at,) then swirl in with the back of a knife or skewer.