Oreo Cheesecake. Make Lasting Memories with Gourmet Gifts from Harry & David. Find Deals on Oreo Cheesecake in Groceries on Amazon. Beat cream cheese, sugar and vanilla in large bowl with electric mixer on medium speed until well blended.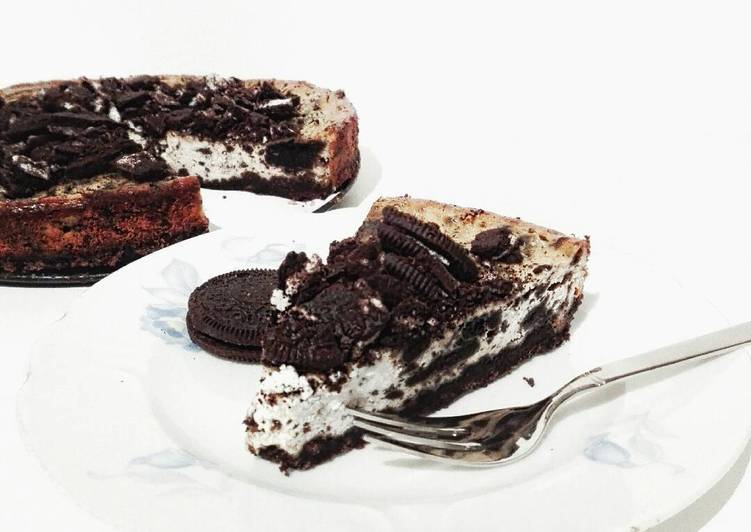 There's even a No Bake Oreo Cheesecake! But while a no bake cheesecake can get close to the real thing, there's just no substitute for an actual baked cheesecake. This creamy Oreo cheesecake is chock full of those delicious cookies, covered in a beautiful swirled chocolate ganache and crowned with whipped cream. You can cook Oreo Cheesecake using 9 ingredients and 6 steps. Here is how you achieve that.
Ingredients of Oreo Cheesecake
You need 35 of Oreo Cookies.
Prepare 2 tbsp. of butter.
It's 5 tbsp. of sugar.
It's 6 tbsp. of sour cream.
You need of vanilla extract.
It's 1 of large egg.
Prepare 1 of egg yolk.
You need 340 g of cream cheese.
It's of salt.
I did bake it in a water bath and added a dash of almond extract along with the vanilla extract. I decorated the top with whipped cream and mini OREO bites. It's a decadent, cookies and cream filled cheesecake served on an amazing Oreo cookie crust and topped off with a layer of chocolate ganache and homemade whipped cream. It's incredibly easy to make and guaranteed to make everyone happy!
Oreo Cheesecake step by step
Preheat the oven to 160°C and line a 20×20 cm baking dish with foil/baking paper..
To make the crust use 23 of the cookies, in a food processor, pulse the Oreos until they're finely ground. Or put them into a plastic bag and smash them into small pieces with a rolling pin. Add in the melted butter and pulse until the cookies are moistened. Transfer the ground Oreos to the prepared baking pan and press the crumbs in an even layer over the bottom of the pan..
In the bowl of a stand mixer, beat the cream cheese on medium high until light and smooth, about 2 minutes. Then mix in the sugar until well-combined. Blend in the sour cream, vanilla, and salt. Then beat in the egg and egg yolk until well-incorporated..
Take the rest of the Oreos and also smash then into smaller and bigger pieces. Gently stir them in into your cream cheese mixture..
Pour cheesecake batter over the prepared crust and smooth out the top with a spatula. Bake for 40 minutes, or until cheesecake is set around the edges but slightly wobbly in the center..
Let cheesecake cool to room temperature, then cover the pan and refrigerate until well chilled, about 3 hours..
Cut up the remaining Oreos and bring the cold ingredients to room temperature. Next, use an electric mixer to combine the cream cheese, flour, sugar, and salt. Mix until everything is smooth and creamy. Then, mix in the heavy cream and vanilla extract. Add in the eggs and egg yolk, one at a time, mixing briefly.