Berries Cotton cheesecake – gluten free. Berries Cotton cheesecake – gluten free Christmas is just around the corner, bake this cake to impress your family during the celebration of christmas day. This cheese cake recipe doesnot call for flour, and it is light and fluffy. Serve this cake with a cup of tea to make a perfect morning break and afternoon break.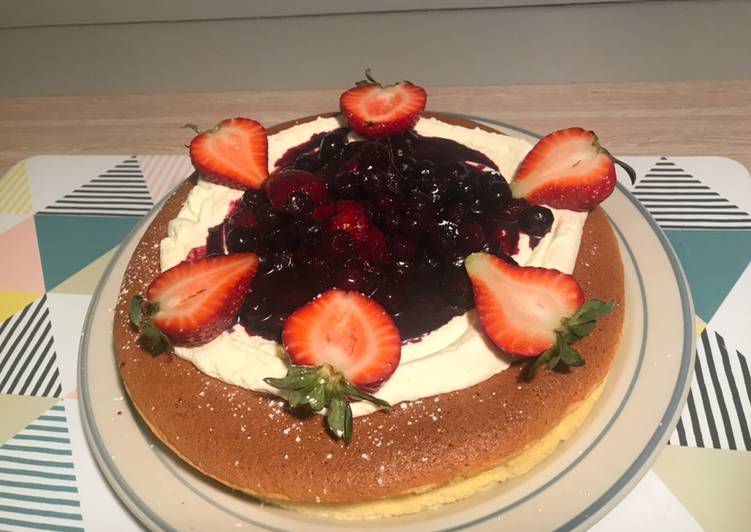 My Gluten Free No-Bake Lemon Berry Cheesecake is the perfect way to finish a meal on a high! This no-bake lemon berry cheesecake has definitely become my go to cheesecake recipe. And if I'm quite frank my go to dessert! You can cook Berries Cotton cheesecake – gluten free using 15 ingredients and 6 steps. Here is how you cook it.
Ingredients of Berries Cotton cheesecake – gluten free
It's 6 of egg yolks.
It's 60 gr of soft icing mixture.
You need of Vanila essence.
Prepare 250 gr of cream cheese (room temperature).
Prepare 50 gr of heavy cream.
You need 70 gr of butter.
You need 6 of egg whites.
It's 70 gr of soft icing mixture.
It's 1 tsp of Lemon juice.
Prepare 150 ml of Heavy cream.
Prepare 2 tbsp of soft icing mixture.
Prepare of Vanila essence.
You need of Frozen strawberries.
Prepare of Frozen blueberries.
Prepare 2 tbsp of Sugar.
Need something to whip up for a dinner party, BBQ, or last minute luncheon!? Indulge every sweet tooth at your next gathering with this light and airy Japanese cheesecake. I ditched the flour and pretty much threw everything together and got a cotton-soft deliciousness. These Mini Berry Almond Cheesecakes have an almond filling and mixed berry topping!
Berries Cotton cheesecake – gluten free step by step
Preheat oven 150 celcius..
Beat cream cheese with egg yolks and melted butter and heavy cream, add icing sugar and corporate well.
Whisk egg whites with lemon juice and icing sugar just until stiff peaks.
Combine well with egg yolks mixture, fold gently to smooth batter.
Line baking paper on bottom and side baking pan, bake for 90mins with water bath just 1cm from baking pan, when timer off, turn off oven and take off the water bath and leave the cake with door slightly open for 30mins.
Cook frozen berries with sugar until dissolved.
They are low carb, gluten free and made with a zero-calorie sweetener for a guilt-free treat that will satisfy your sugar tooth. This post is sponsored by Monk Fruit In The Raw®, but all opinions are my own. Remove from heat and stir in chia seeds to thicken if desired. Top the cheesecake with the berries. Press the mixture evenly into the prepared pan.