Tangy Lemon Squares. Mix with hands to form dough. Use a small offset spatula to remove them from the pan. Tap a bit of confectioners' sugar through a sieve over the top of the bars.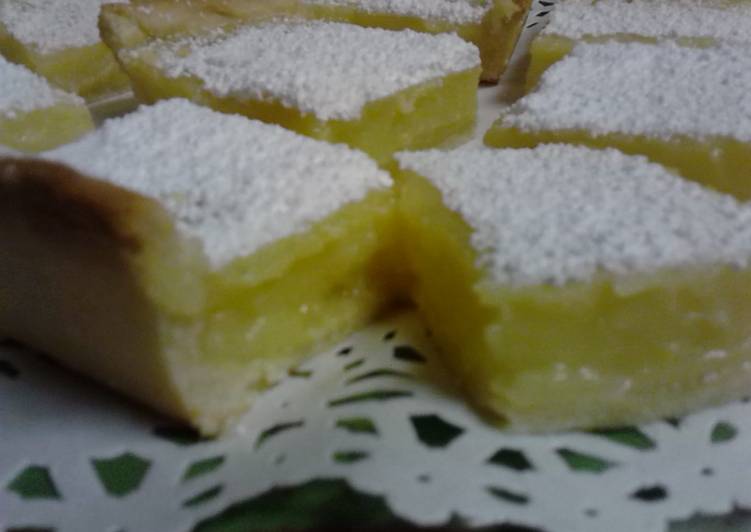 The lemon layer is thick and substantial, not thin or flimsy like most other lemon bar recipes. Raise your hand if you grew up loving lemon bars! Meeeeee too. ♡♡♡ Granted, I've long been the girl who will make a beeline for lemony anything on a dessert table. You can cook Tangy Lemon Squares using 13 ingredients and 3 steps. Here is how you achieve that.
Ingredients of Tangy Lemon Squares
Prepare of Lemon Filling.
Prepare 2 large of ,Lemons.
It's 4 large of Eggs.
You need 1 pinch of salt.
It's 2 tbsp of Lemon Zest.
It's 1 cup of 2% Milk.
Prepare 2 cup of ,White Sugar.
Prepare 1/4 cup of all-purpose flour.
You need of The Crust.
You need 2 cup of all-purpose flour.
You need 1 tsp of Salt.
Prepare 3/4 cup of Powder Sugar.
It's 2 stick of Butter cut into small pieces.
It may seem very dry, but that is ok. The ultimate lemon bars with tons of tangy lemon flavor and a simple shortbread crust. When life gives you lemons, you can make a whole lot more than lemonade! In addition to this recipe, you'll love this lemon pie, this lemon curd, or these lemon cookies!
Tangy Lemon Squares step by step
Preheat oven to 350°.
Lemon Filling; In a mixing bowl add 4 eggs, 2 cups of sugar, 2 tablespoons of lemon zest, 1 cup of milk ant the juice of 2 large lemons, 1/4 cup of flour, and a pinch of salt. Mix until blended thoroughly..
Crust; 2 cups of flour, 2 sticks of butter, 3/4 cup of powdered sugar. Mix til smooth. Place in plastic wrap and refrigerate for 20 minutes. When firm, roll out and place in a 9×13 pan or tart pan. Blind bake for 15 minutes, take out of the oven let empty shell cool 10 minutes. Now pour all of the lemon filling into the shell and place in the oven for 35-40 minutes. Take out and cool. Sprinkle with powdered sugar and cut into squares..
Tangy Lemon Squares These Tangy Lemon Squares are oh-so-delicious and oh-so-popular with the kids too! Stir together sugar and flour until no lumps of flour remain then add lemon juice and lemon zest and stir until smooth. Add beaten eggs and whisk until completely combined then pour filling into crust. For the filling, whisk together the eggs, sugar, lemon zest, lemon juice, and flour. Tips and tricks for making the perfect lemon bar!