Trail Mix Cookies. Huge Selection of Healthy Snacks, Salty Snacks, Organic Snacks & More. These trail mix cookies are basically oatmeal cookies studded with the ingredients found in trail mix. The cookies themselves are no ordinary oatmeal cookies, however.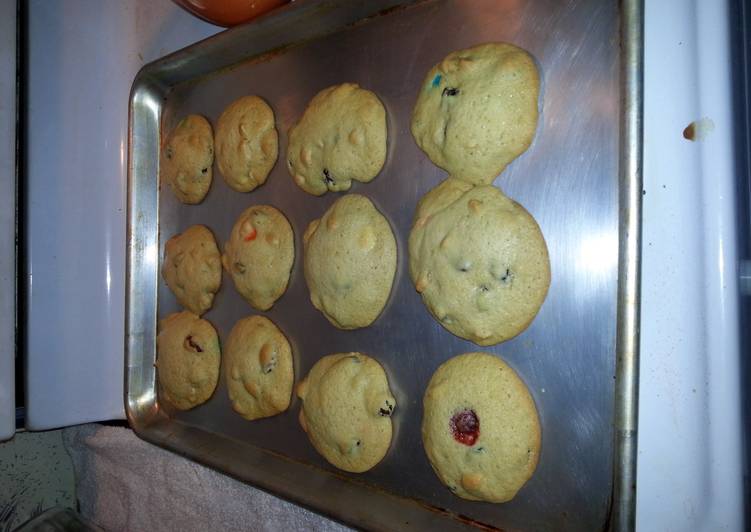 We are huge fans of trail mix in our house – it sits on our kitchen counter waiting for us to scoop a handful or two each and every day. These Trail Mix Cookies are a great little treat for you and your family. Filled with ingredients that you normally put it trail mix like sunflower seeds, dried cranberries, pecans and of course, some chocolate! You can cook Trail Mix Cookies using 10 ingredients and 7 steps. Here is how you achieve it.
Ingredients of Trail Mix Cookies
Prepare of Trail Mix cookies.
Prepare 2 1/4 cup of Flour.
You need 1 tsp of Baking soda.
It's 1 tsp of Salt.
You need 3/4 cup of Sugar.
You need 3/4 cup of Brown sugar.
It's 1/2 tsp of Vanilla.
It's 1/2 tsp of Almond extract.
You need 2 cup of Mountain Trail Mix.
Prepare 2 of eggs.
To me, it is not a good trail mix without some chocolate. I happen to be a chocolate lover! Line two baking sheets with parchment paper or silicone liners. This cookie gets its name from the West Coast Trail on Vancouver Island.
Trail Mix Cookies step by step
Preheat oven at 375° F.
Mix dry ingredients..
Beat butter, sugar and vanilla till creamy..
Add eggs..
Gradually add flour mix..
Stir in trail mix..
Bake 8 to 12:minutes depending on your oven. I baked them for 12 minutes in my oven. Put on a cookie rack to cool and then store in a air tight container or zip lock..
Loaded with choco-chips and dried cranberries. The flax seed meal and pumpkin seeds give them a nutty taste, without the nuts. These thick, soft, and chewy Healthy Trail Mix Cookies are a nutritious way to curb that sweet tooth! Loaded with whole grains, nuts, seeds, and fruit, we can enjoy them for breakfast, snack, or dessert — and best of all, my kids cannot get enough of these clean eating cookies! These easy Trail Mix Cookies are an awesome back-to-school treat.