Peanut Butter Granola Bars. Well, mostly that's because Barclay has been requesting them non-stop lately. I also like to stock my freezer with homemade granola bars and bites so that I have something on backup during those times when a meal prep doesn't happen. To freeze: Once the bars are done baking, let them cool completely and then cut into squares.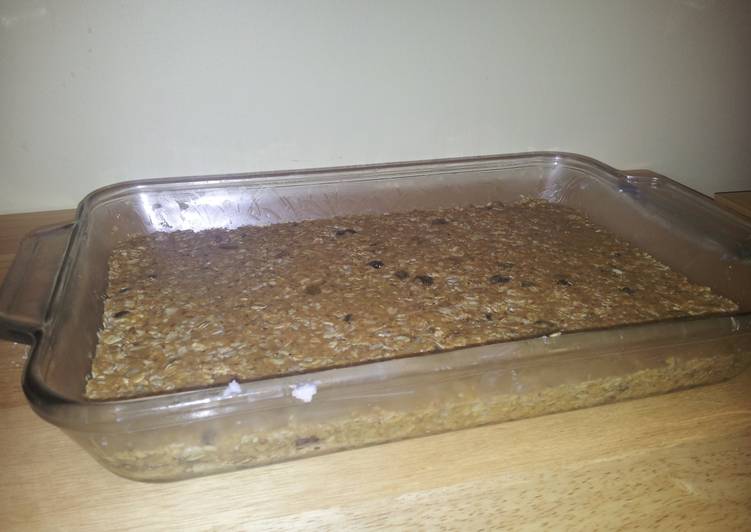 In this case, you might want to use a little extra sweetener, or press some raisins or cranberries on top, to help distract from the slightly more bitter flavor of the ground seeds. Ditch the store-bought granola bars for good. Enjoy them for breakfast on the go, snack time, after school, or anytime you need a healthy snack to give you energy. You can have Peanut Butter Granola Bars using 8 ingredients and 8 steps. Here is how you cook it.
Ingredients of Peanut Butter Granola Bars
You need 2/3 cup of honey.
You need 2 1/4 cup of peanut butter.
You need 4 1/3 cup of old fashioned oats.
Prepare 1/4 cup of ground flax.
It's 1/4 cup of golden raisins.
It's 1/4 cup of raisins.
It's 1/4 cup of raw sunflower seeds.
Prepare 2 tbsp of wheat germ.
You can also freeze the granola bars for up to one month. I love having them on hand for a grab and go snack! Wheat germ, chia seeds, and oats boost the fiber and protein content in these healthy snack bars. You just taste natural and pure flavors without eating tons of sugar or palm fat.
Peanut Butter Granola Bars step by step
Butter 9" x13" pan.
Microwave honey 30 seconds – 1 min.
Blend honey and peanut butter.
Mix dry ingredients in separate bowl.
Mix dry mixture with honey mixture.
Press and flatten in pan.
Cool in refrigerator till stiff.
Cut into 1" x 3" bars.
If you didn't look on nutrient labels yet you should start. Palm fat is contained in nearly everything. It's getting crazy HOT here in Houston and as many of you know, Houston is also extremely humid. Brett and I aren't sure we want to keep running outside anymore because the only semi-enjoyable time to run is really early in the morning. Oh yeah: and you don't even need to turn on your oven!