Baked Baseless Saffron Cheesecake. Slowly beat in the honey and orange zest. Add the saffron mixture and continue to beat. Remove from the oven and set aside until lukewarm.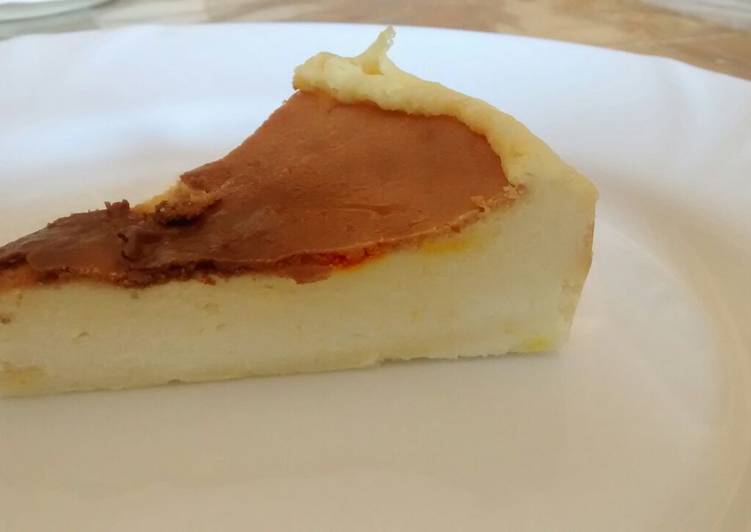 Mix the saffron liquid with the milk and add to the cheese. No-Bake Saffron Cheesecake with a Gingersnap Crust. Saffron Cheesecake …the best thing ever! You can cook Baked Baseless Saffron Cheesecake using 7 ingredients and 8 steps. Here is how you cook that.
Ingredients of Baked Baseless Saffron Cheesecake
Prepare 360 gms of Philadelphia cheese.
You need 284 ml of Elmlea double cream.
It's 3 tbs of icing sugar (adjust to your taste).
Prepare 4 tbs of cornflour.
It's 1/2 tsp of salt.
You need 1 pinch of saffron.
You need 2 tbs of finely powdered almonds and pistachio nuts.
Smooth, beautifully flavoured, most addictive, so satisfying. I know I've said this before, but honestly, this is my ALL TIME favourite cheesecake. Flavouring this beautiful recipe is the best quality saffron I've ever used, one from Tahmina International. While the saffron soaks, thoroughly mix cream cheese, condensed milk, remaining sugar, and cardamom powder with a wire whisk.
Baked Baseless Saffron Cheesecake step by step
Beat together, cheese, icing sugar, cornflour, powdered almonds and pistachio nuts and salt in a mixing bowl. Keep aside..
In another bowl, whip the cream till it forms soft peaks..
Fold the cream and saffron into the cheese mixture..
Pour the batter into a 8" lined tin. Cover the top with an aluminium foil..
Bake in a hot water bath in a preheated oven at gas mark 4 for 60 minutes..
Once the cake is bake, take it out of the oven, don't remove the foil. Let it cool down completely..
Once cool, put in the fridge overnight..
Serve with whipped cream if you wish..
Add the saffron milk to the cream cheese mix. Pour the mix evenly on to the graham cracker crust. Use a spoon to spread the mixture if needed. A couple of little but important tips makes this an easy Cheesecake recipe – I think you'll be surprised! Also, don't miss the new Strawberry Cheesecake!