The Amazing Trio (Coconut mousse in Chocolate shells, Gulkand, Wontons and a Paan Cheesecake). #FIHRCookPadContest Coconut is the sign for an auspicious beginning, while betel leaves signify the successful end of an occasion. See great recipes for Crispy wonton trio, Sig's trio of savoury dessert too! These can either be steam cooked,baked or fried.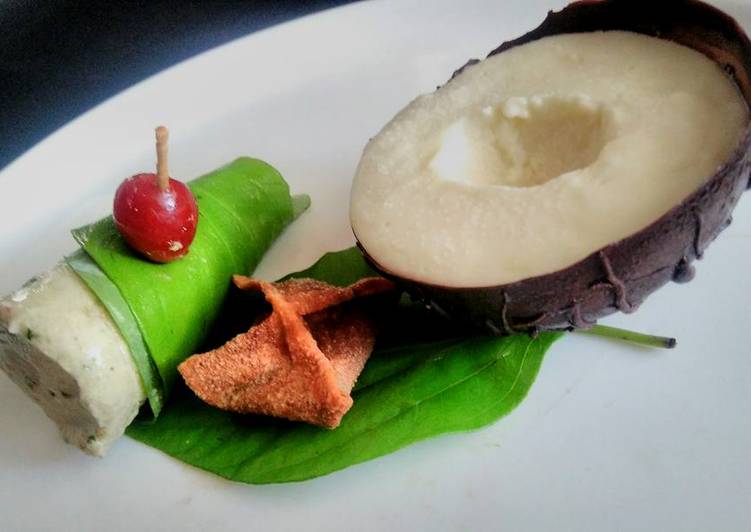 In either way they are delicious and serve as a wo. Rich vegan chocolate coconut mousse recipe that's made with coconut milk that takes minutes to make. It's thick, rich, creamy, dairy-free and suitable for vegan, paleo and refined sugar-free diets. You can cook The Amazing Trio (Coconut mousse in Chocolate shells, Gulkand, Wontons and a Paan Cheesecake) using 23 ingredients and 6 steps. Here is how you cook that.
Ingredients of The Amazing Trio (Coconut mousse in Chocolate shells, Gulkand, Wontons and a Paan Cheesecake)
It's of For the Chocolate Shells.
Prepare 1/4 of Cooking Chocolate slab.
Prepare 1 of double boiler to temper the chocolate.
Prepare 1 of round shaped silicon mould.
It's of For the Coconut Mousse.
Prepare 1 of Pkt Coconut Milk.
It's 1/4 cup of water.
Prepare 1/4 cup of sugar.
It's 2 cups of Amul Cream.
Prepare 1 handful of Shredded Coconut.
It's 2 tbsp of agar agar or Carrageenan.
You need of For the Gulkand Wontons.
You need 4 of Wonton Wrappers.
It's 4 tsp of Gulkand.
You need of For the Paan Cheesecake.
You need 4 of Betel Leaves.
Prepare 100 gms of Hund Curd.
You need 75 gms of Chenna (Homemade).
Prepare 50 gms of Amul Fresh Cream.
Prepare 50 gms of Castor Sugar.
You need 2 tbsp of Agar Agar or Carrageenan.
You need 1 of Meetha Paan (Ready Made).
You need as needed of Water to dissolve the agar agar.
Fold through the shaved chocolate if using). Depending on the coconut milk you use, a mousse will form almost immediately once the cocoa powder is mixed through. If not, refrigerate until set and ready to serve, or serve immediately. Dollop the 'plain whipped cream' over the mousse and sprinkle with shaved chocolate (if using).
The Amazing Trio (Coconut mousse in Chocolate shells, Gulkand, Wontons and a Paan Cheesecake) step by step
Chop cooking chocolate and place in a bowl. Using a double boiler, melt the chocolate until a smooth and shiny consistency is achieved. Pour this chocolate into the round shaped silicon mould and allow it to set. Once done, gently demould. Now take a spoon, dip it in chocolate and drizzle over these to create the texture of a coconut shell..
In a pan, mix the coconut milk, sugar, and the shredded coconut until everything is dissolved. Gently warm the liquid by placing over stove. Dissolve carrageenan in water and add this to the warmed coconut milk. Sieve it through a mash and pour it into the chocolate coconut shells. Let these shells set in the fridge for atleast 4 hours. Scoop out the middle portion to make it look like a coconut..
For the Wontons, take wonton sheets and cut them into squares. Place 1 tsp Gulkand and seal with a water + Maida paste. Brush with a little butter and bake in the oven for 5 mins until they turn crisp and golden brown..
For the cheesecake – Mould the Paan leaves into cones and secure with a toothpick. In a belnder, blend together the curd chenna, paan and sugar and make a smooth paste. In a bowl add the fresh cream, to this mix. Add carrageenan to water and warm it. Now heat the mixture gently over low flame. Slowly add the carrageenan, and stir will. Sieve through a mash and pour it into a bowl. Place it in the fridge till the cheesecake sets but not entirely, for about 15 minutes..
Now take this semi solid mixture and pour it in the paan leaves. Allow to set atleast for 4 hours..
Once all the elements are set serve cold..
Melt dark chocolate about a cup, and using a clean brush paint it on the outer surface of the spheres. For the final touch, dust it with some cocoa powder and using a heated small round nozzle. This fluffy coconut mousse comes together quick and easy and is loaded with a cold, creamy coconut flavor! Top with your favorite toppings and it's the perfect summer dessert! Serene from House of Yumm back with you today and I'm sharing what is possibly my all time favorite summer treat… Coconut Mousse.