Malteser cheesecake. Some people go all the way and cover the entire top of the cheesecake with Maltesers. However, although the Malteser cheesecake will look stellar – and there is no doubt it will look anything other than a scrumptious Malteser cheesecake – it's just a bit difficult to cut. So, all in all, very beautiful but quite impractical.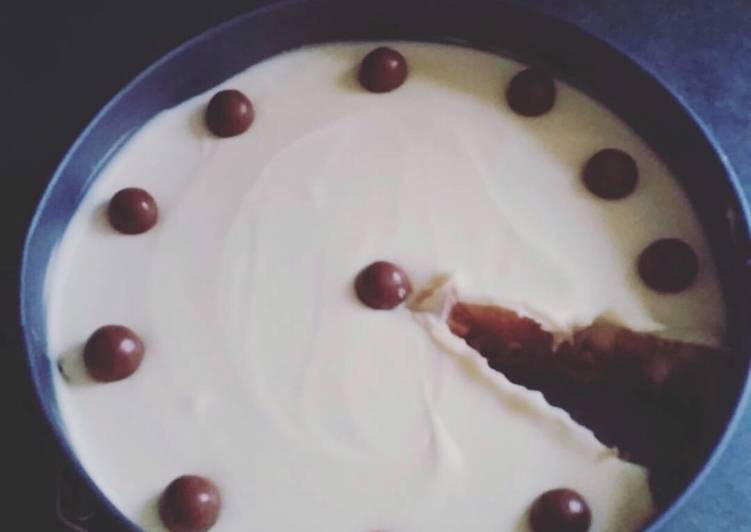 Topped with smashed, halved and whole Maltesers, swirls of sweetened double cream – I'm honestly not sure you could ask for more in a no-bake cheesecake! This Malteser Cheesecake is pure indulgence. How to make the best ever no bake Malteser cheesecake. You can cook Malteser cheesecake using 9 ingredients and 6 steps. Here is how you achieve that.
Ingredients of Malteser cheesecake
You need 200 g of Malted milk biscuits (crushed).
Prepare 100 g of Salted butter (melted).
You need 5 tbsp of Caster sugar.
Prepare 2 of x 300g tubs of full fat soft cheese (Philadelphia is best).
Prepare 300 ml of Double cream.
It's 300 g of White chocolate (melted).
You need 200 g of milk chocolate (melted).
It's 2 tbsp of malt or Horlicks powder.
You need 37 g of White maltesers (decoration).
Ok, so just like the Twix cake, I don't think that I really need to convince you to make this Malteser cheesecake. I mean, that creamy, crushed Malteser filling and the chocolate biscuit base, are more than enough for me to plant myself face first in it. Once set, release the sides of the springform cake tin and place the cheesecake on a serving plate, decorate the top with Maltesers® YUM! Sign in or create your My Good Food account to join the discussion.
Malteser cheesecake instructions
Line base and sides of a deep 22-23cm loose bottomed round tin with baking parchment..
Mix biscuits, melted butter and 2tbsp of sugar then press into base. Chill whilst you make the filling..
Divide the cream cheese and double cream evenly between two bowls. In one bowl, add the melted white chocolate. In the other bowl, add the melted milk chocolate, malt powder and the remaining 3tbsp of sugar. Beat each bowl with electric whisk until smooth..
Spread the milk chocolate mixture evenly in the tin. Wipe around the edge..
Spoon the white chocolate mixture over the top and gently smooth..
Decorate with maltesers and chill for at least 5 hours..
One of my absolute favourite things in the world to make is a cheesecake. Delicious & Chocolatey Malteser Cheesecake – Malt Biscuit Base, Chocolate Malt Cheesecake, Malteser Spread, Sweetened Cream, and Maltesers! This cheesecake is SO delicious chocolatey and moreish – that I ate the whole thing myself with a fork. I'm kidding. (I wish) Anywayyyy… The actual cheesecake isn't just a normal plain vanilla cheesecake, oh no. Once set, release the sides of the springform cake tin and place the cheesecake on a serving plate, adding the whole Maltesers® on top to decorate.