Zesty Orange cheesecake. Mix in the eggs one at time, then the cream, flavorings, and zest. Turn the oven off, prop the door open, and let the cheesecake sit for an hour. Add orange juice and beat until smooth.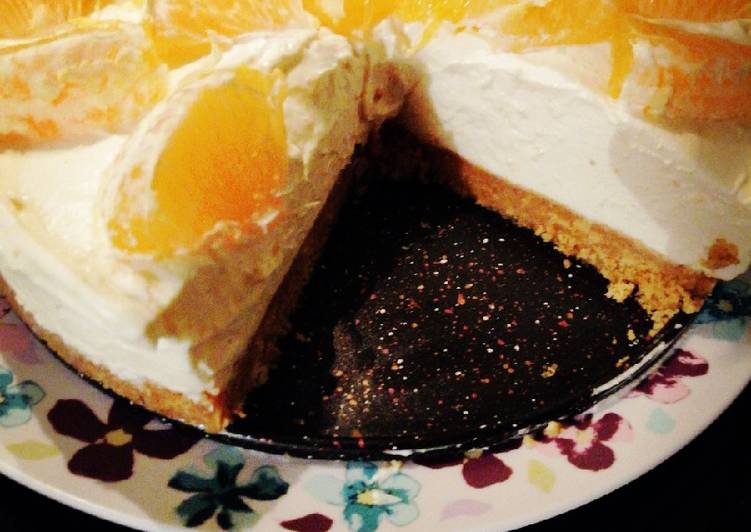 And the topping is a brown sugar cranberry sauce that's spiked with grand marnier! We served this for a Friendsgiving gathering last week and it was DEVOURED! I use high grade vanilla extract (haitian vanilla essence is amazing in my opinion). You can cook Zesty Orange cheesecake using 9 ingredients and 8 steps. Here is how you achieve it.
Ingredients of Zesty Orange cheesecake
Prepare 17 of digestive biscuits.
Prepare of Zest of 2 large oranges.
It's 6 tbsp of butter- melted.
Prepare 400 g of full fat cream cheese.
It's 200 g of mascarpone.
You need 100 g of caster sugar.
It's 185 ml of double cream.
You need 3 tbsp of milk.
Prepare of Orange segments for the top.
Having said that, baked cheesecakes were always my weakness. half of the grated orange zest and pulse until combined. Whisk together the remaining orange zest, creamed cottage cheese, condensed milk and lemon juice and pour into the crust. This recipe is one of my lighter and creamier cheesecake recipes. The orange and lemon zest mixed with the cream cheese makes for a sweet and sour flavor that will pucker your mouth while licking your lips at the same time.
Zesty Orange cheesecake step by step
Blitz up the digestives and mix with the melted butter.
Press firmly into round tin and put into the fridge to firm up for about 30 minutes.
Combine the cream cheese, mascarpone, sugar, orange zest and milk.
In a separate bowl whisk the cream until thick.
Combine the whisked cream and the cream cheese mixture until fully combined.
Pour mixture over the chilled biscuit base, and tip with orange segments.
Allow to set for at least 4 hours.
Slice and enjoy!.
Mix in the vanilla, orange zest, orange juice. Add the eggs, one at a time, beating very well after each addition. Beat with an electric mixer on medium speed until smooth. Stir in eggs and orange peel just until combined. Put the tin into the fridge to set.