Oreo, chocolate and peanut butter cheesecake bars. Make Lasting Memories with Gourmet Gifts from Harry & David. Remove from the oven and cool completely in the pan on a wire rack (for about two hours). I don't think so but I will give you one anyway!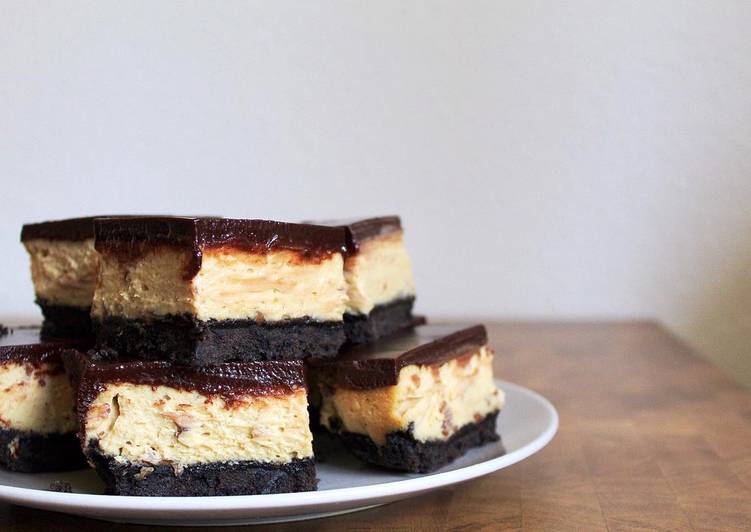 These beauties are worth the work and they really aren't that much work! This post may contain affiliate links. Mix in the vanilla and salt. You can have Oreo, chocolate and peanut butter cheesecake bars using 14 ingredients and 5 steps. Here is how you cook that.
Ingredients of Oreo, chocolate and peanut butter cheesecake bars
You need of Crust.
Prepare 36 of cream-filled chocolate sandwich cookies (regular or double filled).
You need 1/2 cup of (1 stick; 115g) unsalted butter, melted.
Prepare of Peanut Butter Filling.
Prepare 3 (8 ounce) of bricks (24 oz) full-fat PHILADELPHIA Cream Cheese, softened to room temperature.
It's 1 cup (200 g) of granulated sugar.
Prepare 1/4 cup (60 g) of sour cream or plain yogurt, at room temperature.
It's 1 cup (250 g) of creamy peanut butter (not natural style).
Prepare 1 teaspoon of pure vanilla extract.
It's 1/8 teaspoon of salt.
It's 3 of large eggs, at room temperature.
Prepare of Chocolate topping.
Prepare 1/2 cup of (1 stick; 115g) unsalted butter.
Prepare 1 of heaping cup (around 200g) semi-sweet chocolate chips.
Pour the mixture over the Oreo crust, and spread out evenly. There is just so much to love about these bars. It all started with the crust. There was a sale on Oreos.
Oreo, chocolate and peanut butter cheesecake bars step by step
Preheat oven to 350°F (177°C). Line the bottom and sides of a 9×13 inch baking pan with parchment paper, leaving an overhang on the sides to lift the finished bars out (makes cutting easier!). Set aside..
For the Crust: In a food processor or blender, pulse the whole sandwich cookie into a fine crumb. Stir the cookie crumbs and melted butter together in a large bowl. Press tightly into the bottom of the lined baking pan. Pre-bake for 10 minutes. Remove from the oven and set aside. Leave oven on..
For the cheesecake filling: Using a handheld mixer beat the cream cheese and granulated sugar together on medium-high speed in a large bowl until the mixture is smooth and creamy. Add the sour cream and beat until fully combined. Then add the peanut butter, vanilla extract, and salt and beat until fully combined. On medium speed, add the eggs one at a time, beating after each addition until just blended. After the 3rd egg is incorporated into the batter, stop mixing..
Pour the cheesecake filling onto the crust. Spread evenly on top with a rubber spatula or back of a spoon. Bake for 35-38 minutes or until the cheesecake appears set on top and the edges are browned. The edges may slightly crack. (Mine do!) The bars will be puffy, but will sink slightly down as they cool. Place pan on a wire rack. Cool for 1 hour at room temperature, then chill in the refrigerator for at least 3-4 hours..
For the chocolate topping: Cut the butter into Tablespoon size pieces. Place into a heat-proof bowl. Pour chocolate chips on top and melt over a pot of boiling water. Once melted and combined, pour over the cheesecake and refrigerate for 1 hour before cutting into squares..
My blogger friends and I are celebrating our love for cheesecake today since it is NATIONAL CHEESECAKE DAY! At the bottom of this post are links. Quicker to bake and chill than a full cheesecake, these layered bars are the perfect choice when you need a crowd-pleasing dessert that's also portable, easy to serve, and handheld. Strawberry Cheesecake Dream Bars – a NO BAKE dessert made of a graham cracker crust, fresh strawberries, a cheesecake layer, strawberry pudding, and topped with whipped topping. The next layer is a creamy cream cheese layer.