Double Chocolate Cheesecake. Make Lasting Memories with Gourmet Gifts from Harry & David. Find Deals on Triple Chocolate Cheesecake in Groceries on Amazon. Remove cheesecake from oven; run a knife along outer edge of cheesecake, and cool in pan on a wire rack until room temperature.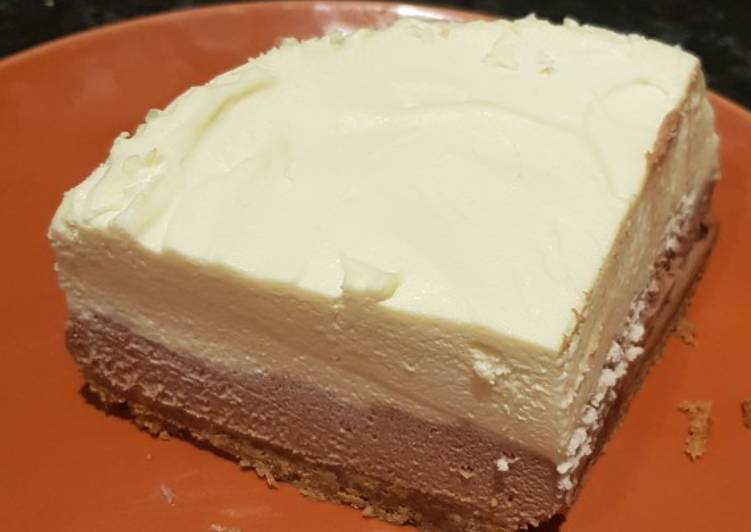 This is the best chocolate cheesecake recipe ever.. Add chocolate; whisk until chocolate melts and mixture is smooth. Using electric mixer, beat cream cheese and sugar in large bowl until well blended. You can have Double Chocolate Cheesecake using 7 ingredients and 9 steps. Here is how you achieve that.
Ingredients of Double Chocolate Cheesecake
Prepare 200 g of double cream.
Prepare 200 g of creme fraiche.
It's 200 g of cream cheese.
You need 200 g of milk chocolate.
You need 200 g of white chocolate.
It's 1 packet of Ginger nut biscuits.
It's 1 knob of Butter.
Chocolate lovers – you are going to LOVE today's recipe. Today, I bring you the ultimate no-bake chocolate dessert. This no-bake chocolate cheesecake recipe starts off with an Oreo crust. Chocolate cheesecake doesn't need all of that embellishment.
Double Chocolate Cheesecake step by step
Crush the ginger nut biscuits.
Melt the butter and mix it into the crumbled biscuits and place the mixture into the base of a clingfilm lined cake tin and let it set in the freezer.
Whisk the cream cheese, creme fraiche and double cream together in a bowl.
Divide the cream mixture into two bowls.
Melt the milk and white chocolate separately in 2 bowls, then let the chocolate cool slightly.
Fold the milk chocolate into one of the cream bowl mixtures.
Fold the white chocolate into the other bowl containing the cream mixture.
Once the biscuit base has set (10 minutes or so in the freezer should be enough), add a layer of the milk chocolate cream mixture and set in the freezer.
Once set (another 10 minutes or so), add the final layer of white chocolate and set in the freezer.
Beat cream cheese, sugar, flour and vanilla with mixer until blended. Alternatively, cut parchment paper to size and line the bottom. Use a food processor or a resealable plastic bag and a rolling pin to grind the cookies. Pour the chocolate filling over the prepared crust and smooth out the top with a spatula. Transfer the cheesecake to the center rack and bake until the filling is no longer soupy but still.