Honeycomb Cheesecake. Gorgeous creamy cheesecake with crunchy honeycomb and chocolate pieces on a crunchy biscuit base. This recipe has been submitted by the Good Food community. Sign in or create a My Good Food account to upload your own recipe creations.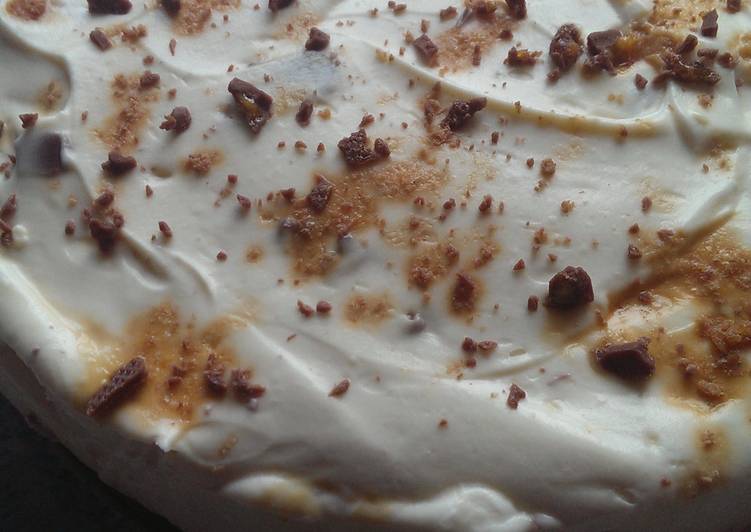 Add each egg and mix one a time. Pour in honey, vanilla, orange blossom water, and salt. How To Make Chocolate Honeycomb Cheesecake. You can have Honeycomb Cheesecake using 7 ingredients and 4 steps. Here is how you cook that.
Ingredients of Honeycomb Cheesecake
Prepare 100 grams of Caster Sugar.
It's 150 grams of Unsalted Butter.
You need 500 grams of Cream Cheese.
It's 300 ml of Double Cream.
You need 200 grams of Digestive Biscuits.
It's 1 tsp of Vanilla Extract (or 1 Pod).
It's 2 of Bags of Cadburys Crunchie Nuggets.
Press mixture over the base and up sides of prepared pan. I recommend that if you do use bars, cut up and chuck on just before you tuck in! Garnish with remaining honeycomb bars to serve. Fold the two mixtures together and stir in half the honeycomb pieces.
Honeycomb Cheesecake instructions
Grease a 23cm tin and smash the biscuits in a bag. Melt the butter in a pan over a low heat, add the crumbs and stir. Remove from heat, place in tin and squash down. Set in the fridge for 1hr..
Place cheese, sugar and extract in a bowl and mix..
Whisk cream in a separate bowl until it creates soft peaks. Pour in the bags of Crunchie Nuggets and mix. Add the cheese mix and fold in..
Place the mix on the base and set in the fridge for 1hr. Sprinkle honeycomb on top to decorate!.
Spoon the filling over the biscuit bases and smooth the surface. When ready to serve, remove the ring moulds and sprinkle over the remaining honeycomb pieces. This no-bake Chocolate Honeycomb Cheesecake is packed with tiny morsels of crunchy honeycomb inside a velvety smooth cheesecake. With a simple biscuit base and homemade honeycomb garnish, this dessert is a showstopper that doesn't forever to make! A delicious honeycomb and salted caramel cheesecake, perfect for special occasions.