~ Triple Chocolate Oreo Bars ~.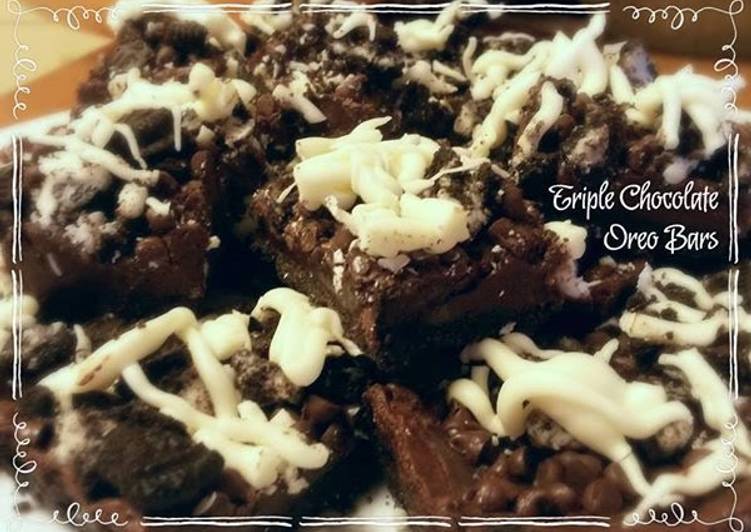 You can cook ~ Triple Chocolate Oreo Bars ~ using 9 ingredients and 15 steps. Here is how you achieve that.
Ingredients of ~ Triple Chocolate Oreo Bars ~
Prepare 1 of 16.6 oz Package Oreo Cookies.
You need 1/2 cup of Butter (melted) (1 stick).
You need 1/4 tsp of Salt.
It's 14 oz of Can Sweetened Condensed Milk.
Prepare 1 tsp of Vanilla Extract.
Prepare 1 cup of Semi-Sweet Chocolate Chips.
It's 1/2 cup of Milk Chocolate Chips.
You need 1/2 cup of Mini Chocolate Chips.
It's 1 cup of White Chocolate Chips (melted).
~ Triple Chocolate Oreo Bars ~ instructions
Preheat the oven to 325°.
Line a 9 x 13 pan with foil (shiny side down) and spray with non-stick spray..
Set aside 8 Oreo cookies..
Crush the remaining Oreos with either your food processor or in a ziplock bag with a rolling pin or food processor..
When the Oreos are crushed transfer them into a medium bowl and add you salt and melted butter, stirring to combine..
Press your Oreo mixture into your prepared pan..
Chop your remaining 8 Oreos into coarse pieces and set aside..
In a medium microwave-proof bowl, add your sweetened condensed milk, the semi-sweet chips, the milk chips and the vanilla. Microwave for 60 seconds. Stir until all melty. If needed, microwave for 30 seconds longer..
Remove from heat Pour your melted chocolate mixture over the Oreo crust and sprinkle the mini chocolate chips and the Oreo cookies chunks over the top of the filling. Press down gently into the chocolate topping..
Bake for 20-22 minutes at 325°.
Cool pan on a wire rack for approx 1 hour..
Melt the white chocolate chips in the microwave for 60 seconds. Drizzle the white chocolate over the top of the bars..
Chill in refrigerator until completely cooled, an hour or two. Make sure they are completely cooled, otherwise they are a bit mushy…still delicious, but hard to cut..
When ready to serve, using the foil remove from the pan and cut into squares..
Enjoy!.