CHOCOLATE CHIP COOKIE CHEESECAKE. These easy Chocolate Chip Cookie Cheesecake Bars are made with just five ingredients! This delicious dessert recipe is sure to satisfy your sweet tooth! And of course make sure to check out my Favorite Chocolate Chip Cookie Recipe and my Perfect Cheesecake!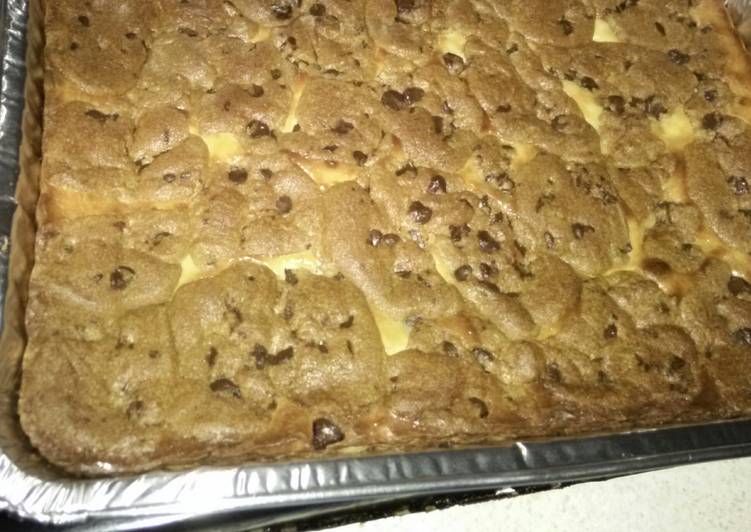 Chocolate Chip Cookie Cheesecake is as good as it sounds, rich, chocolaty and decadent. A homemade large chocolate chip cookie crust topped with a silky. Chocolate chip cream cheese bars of course! You can cook CHOCOLATE CHIP COOKIE CHEESECAKE using 5 ingredients and 6 steps. Here is how you achieve it.
Ingredients of CHOCOLATE CHIP COOKIE CHEESECAKE
You need 2 packages of tollhouse cookie dough.
It's 2 packages of cream cheese.
It's 3/4 cup of sugar.
It's 1 tsp of vanilla extract.
You need 2 of eggs.
This recipe is a game changer and one you will fall in love with. These cookie cheesecake bars are delicious and pretty much amazing! The cheesecake layer combined with the chocolate chip cookie dough make a dessert that no one will forget! This Chocolate Chip Cookie Bottomed Cheesecake is made with a chewy chocolate chip cookie on the bottom and a smooth, creamy no bake chocolate cheesecake on top!
CHOCOLATE CHIP COOKIE CHEESECAKE step by step
In a 9 by 13 inch pan spray with non stick spray. Take one roll of cookie dough and press in the bottom of the pan..
Mix the cream cheese, sugar and vanilla extract..
Add eggs one at a time to cream cheese mixture..
Pour over cookie dough.
Take second tube and cut into 1/4 inch thick pieces. Place on top of cream cheese mixture..
Bake on 325 for 45 minutes..
Everyone who tries this scrumptious cookie dough cheesecake loves it. —Julie Craig, Kewaskum, Wisconsin. I created this recipe to combine two of my all-time favorites: cheesecake for the grown-up in me and chocolate chip cookie dough for the little girl in me. Cheesecake sandwiched between a layer of chocolate chips and two layers of chewy soft chocolate chip cookies. Today though I want to share with you this fab recipe for chocolate chip cookie cheesecake bars!! These are a bake sale favorite of mine!