Brenda's Chocolate Peanut-butter No Bake Cookies. Sometimes called "preacher cookies", they are the perfect after-school treat, a must for holiday cookie trays, and the best "just because" cookie. Get your kids involved in a fun and tasty project with these top-rated recipes. Cinnamon Nutella® No-Bake Cookies "Hands-down, the best no bake cookie recipe I have tried." – House of Aqua.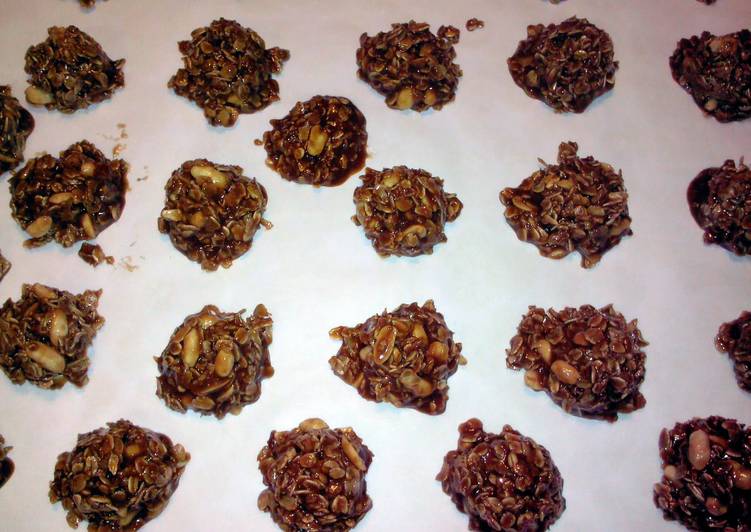 Bring to a boil, stirring constantly. Measure and set aside all of the ingredients before you start making these no bake cookies. The only tricky thing about this recipe is that things move quickly towards the end, so having everything measured out beforehand makes a big difference. You can cook Brenda's Chocolate Peanut-butter No Bake Cookies using 7 ingredients and 2 steps. Here is how you cook it.
Ingredients of Brenda's Chocolate Peanut-butter No Bake Cookies
You need 33/100 cup of sugar.
Prepare 2 tsp of PB2 powder (or cocoa).
Prepare 2 tbsp of milk (or vanilla coconut creamer).
It's 2 tbsp of crunchy peanut butter (or nutella).
Prepare 1/4 tsp of vanilla (leave out if using the creamer).
It's 1/2 cup of quick-cooking oats.
It's of crushed pecan bits (optional if not using the crunchy peanut butter).
They'll make life easier and are kid approved! They're made with only four ingredients, they're vegan, flourless and refined sugar free. Peeps if making bigger nests in the large muffin pan. Mmmmm, that sounds tasty and trust me, it really is.
Brenda's Chocolate Peanut-butter No Bake Cookies instructions
Stir together sugar, cocoa and milk in 4-cup glass measure or medium microwave-safe bowl. Microwave on HIGH 1 to 1-1/4 minutes or until boiling, stirring once..
Stir in peanut butter and vanilla until blended. Stir in oats until combined. Drop by spoonfuls onto a waxed paper-lined plate to make 6 cookies. Cool in freezer 10 minutes before serving..
These crunchy treats are a great snack after training, when you need extra energy or when you feel like eating. Line a baking sheet with wax paper or parchment. They are moist and chewy and oh so tasty. Growing up, my mom always made these simple, quick drop cookies from scratch. I loved stealing them fresh off the counter as soon as she finished each batch.