Cheese cake filled chocolate bundt cake!. I have kind of an obsession with desserts that contain a secret surprise filling. Between my recent Fudge Filled Cookies and this Cheesecake Filled Chocolate Bundt Cake, I am apparently on a mission to delight the pants off our taste buds. I remember being a kid and my parents ordering the occasional fast food "family meal" that always seemed to come with a bundt cake as a dessert.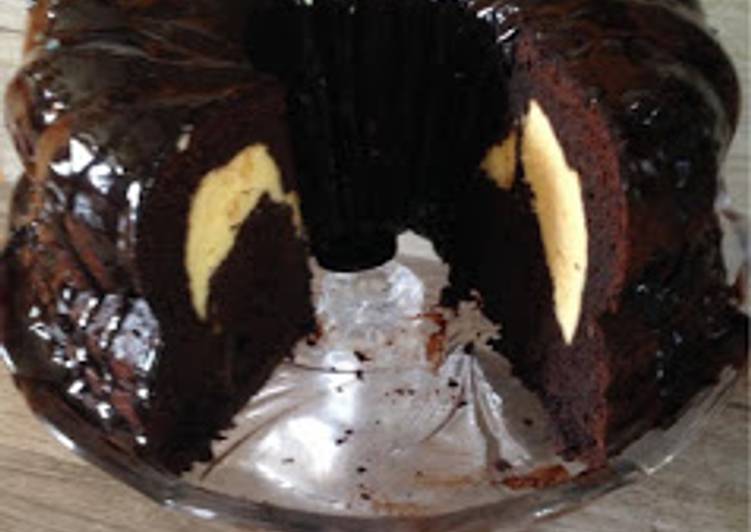 Valentine's Day just calls for a chocolate cheesecake recipe like this one! Adding cream cheese to an amazing chocolate bundt cake makes for the best cake ever! I think you are going to flip over this Chocolate Bundt Cake with Cream Cheese Filling. You can cook Cheese cake filled chocolate bundt cake! using 22 ingredients and 6 steps. Here is how you achieve it.
Ingredients of Cheese cake filled chocolate bundt cake!
Prepare 8 ounces of cream cheese, at room temperature.
Prepare 1/2 cup of granulated sugar.
Prepare 1 of large egg.
You need 1 teaspoon of vanilla extract.
You need 2 teaspoons of all-purpose flour.
You need of For the cake:.
Prepare 3/4 cup of unsweetened cocoa powder, preferably Dutch-processed.
You need 6 ounces of bittersweet chocolate, finely chopped.
Prepare 1 tablespoon of espresso powder.
Prepare 3/4 cup of boiling water.
You need 1 3/4 cups (7.87 ounces) of all-purpose flour.
It's 1 teaspoon of salt.
It's 1 teaspoon of baking soda.
Prepare 1 cup of sour cream, at room temperature.
You need 1 1/2 sticks (6 ounces) of unsalted butter, at room temperature.
Prepare 2 cups of packed light brown sugar.
Prepare 1 tablespoon of vanilla.
You need 5 of large eggs, at room temperature.
Prepare of For the glaze:.
Prepare 1/2 cup of heavy cream.
Prepare 2 teaspoons of corn syrup.
It's 4 ounces of semisweet chocolate, chopped.
If you love cakes, don't miss my Cream Cheese Pound Cake. You will also love my Apple Bundt Cake and Lemon Pound Cake! This cheesecake stuffed Bundt cake is amazingly good. It actually rivals my favourite chocolate cake in both flavour and texture.
Cheese cake filled chocolate bundt cake! step by step
1. Preheat the oven to 350°F. Spray a bundt pan with nonstick cooking spray..
For the filling: In the bowl of an electric mixer, beat the cream cheese and sugar until well combined. Add the egg, vanilla, and flour until well combined. Set aside..
For the cake: in a large bowl, mix the cocoa, chocolate, and espresso powder. Pour the boiling water into the bowl and cover. Let stand for 5 minutes. In a small bowl, whisk together the flour, salt, and baking soda.Whisk the chocolate mixture until it is smooth. Let cool to room temperature. When it has cooled, whisk in the sour cream..
In the mixing bowl, beat the butter, brown sugar, and vanilla for about 3 minutes, or until light and fluffy. Add the eggs, one at a time, until combined. On low speed gradually add the flour mixture and the melted chocolate mixture alternatively, beginning and ending with the flour, until the batter is smooth..
Pour a little more than half the batter into the prepared pan. Pour the cheesecake filling into the center of the batter, not allowing it to touch the edges of the pan. Pour the remaining batter of the filling. Bake the cake for about 50 minutes, or until a toothpick comes out with moist crumbs. Let cool on a rack for 10 minutes, then turn the cake out and let cool completely..
For the glaze: In a small saucepan heat the cream and corn syrup over medium heat until hot. Remove from heat and add the chocolate, whisking until smooth. Let cool slightly until thickened. Drizzle over the cake. Let the glaze set at room temperature, about 10 minutes, before serving..
The cheesecake adds a bit of a tart tang that compliments the chocolate cake perfectly. Chocolate Cheesecake Bundt Cake This Chocolate Cheesecake Bundt Cake is extra special! Cherry Chocolate Cream Cheese Bundt Cake is a rich, moist, chocolate cake with cherries filled with cream cheese for the ULTIMATE chocolate cherry dessert! One of the most popular chocolate Dessert Recipes on the site is our Triple Chocolate Bundt Cake because it's so rich, moist and delicious. Whisk the flour, cocoa powder, sugar, baking soda, baking powder, salt, and espresso powder (if using) together in a large bowl.