Mocha oreo No Bake cheesecake. Make the crust: In a food processor or a ziploc bag place biscuits and cocoa powder, crush into fine crumbs. How to make these No Bake Mocha Mint Cheesecake Parfaits: Crush your cookies in a food processor and divide evenly into your cups. (You can find these little disposable plastic cups at Walmart in the paper plate and cup aisle. They also come with a lid, so you can make and take them to parties and picnics easily.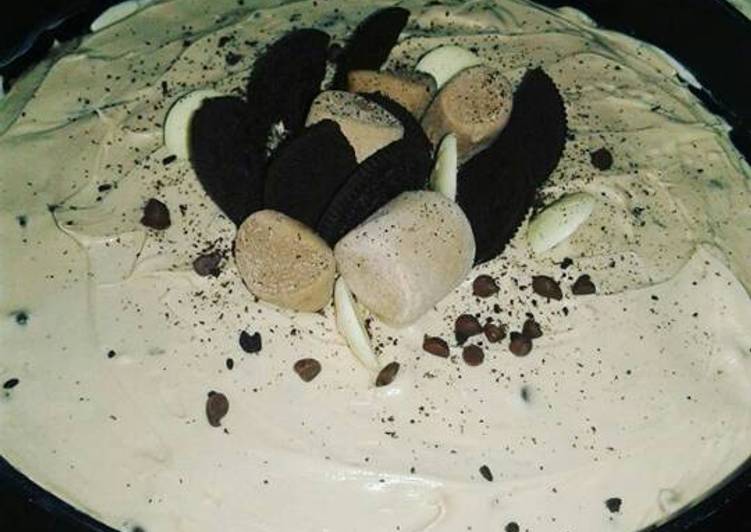 I'm not going to try and sell you on the flavor of the cheesecake. We all know what the deal is with mocha and how it is awesome with Oreos. Remove from the oven and run a knife around the outside edge of the cheesecake to loosen from the pan. You can have Mocha oreo No Bake cheesecake using 11 ingredients and 7 steps. Here is how you cook it.
Ingredients of Mocha oreo No Bake cheesecake
Prepare of Creamcheese.
You need of Whipping crean.
You need of Sugar.
It's of Vanilla.
You need of Chocolate Chips.
You need of white chocolate chips (toppings).
Prepare of Mocha Chips.
You need of Crushed grahams.
You need of Oreos.
It's of Butter.
It's of Marshmallow (toppings).
Cool on wire rack for a couple hours. Refrigerate overnight to let flavors develop. Remove outside of pan and decorate with melted white chocolate drizzles. Serve with Cool Whip and extra Oreo crumbs and.
Mocha oreo No Bake cheesecake instructions
Combine Crushed graham and teaspoon of butter into the pan to make the crust.
Mix the whipping cream and creamcheese.
Use stand or hand mixer.
Gradually add the sugar and vanilla into the batter.
Put the small amout of coffee into the melted chocolate chips.
Put the batter into the crust.
Set it into the fridge for 6-12 hrs..
So one of the most highly recommended recipes on my website is this. Here is how … Easiest Way to Prepare Yummy Everything Dough (Vegan and Vegetarian friendly)🍞 This decadent Mocha Oreo No Bake dessert combines the flavors of Oreo, coffee and chocolate and is easy to make with only six ingredients. It doesn't have any gelatin, super easy to prepare with a few basic ingredients. For the no-bake cheesecake filling, you'll be using a mixture of cream cheese, powdered sugar, a little vanilla, heavy whipping cream (or whipped topping, see my notes), and more Oreos. I suggest letting the cream cheese soften to room temperature before mixing up the cheesecake filling so that it comes out much smoother.