Baked Peach Orange Cheesecake. Place mandarin oranges/peaches on top of cheesecake (shown in picture). This Orange Creamsicle Cheesecake combines a childhood favorite – creamsicles, along with the creamy, dreamy cheesecake. You couldn't ask for a better pairing.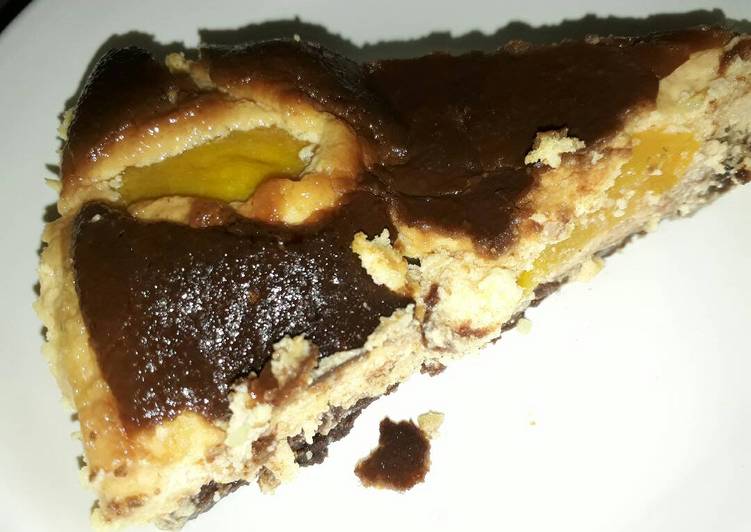 It's the perfect treat all year long! I love orange and enjoy creating new recipe. For this cake I was inspired by the ever popular Orange Creamsicle. You can cook Baked Peach Orange Cheesecake using 9 ingredients and 6 steps. Here is how you achieve it.
Ingredients of Baked Peach Orange Cheesecake
You need of Choco Orange Bisquits.
You need 1 can of prserved Peaches.
You need 1 pack of all purpose cream.
It's 1 pack of creamcheese.
Prepare 80 g of condense milk.
Prepare 30 g of Butter.
Prepare 2 of medium eggs.
Prepare of vanilla.
You need of cherry brandy.
They are super easy to do and don't take a lot of time. Any ordinary day is special enough for this incredibly easy No Bake Summer Orange Creamsicle Cheesecake dessert. I love making no bake cheesecakes. They are so simple to make and always tastes so delicious.
Baked Peach Orange Cheesecake instructions
Melt butter and powderize choco bisquits removing first the orange cream center. Beat eggs andd set aside..
Set aside the orange cream for later. Mix the butter and choco bisuits… press into your baking pan.
Blend with mixer your all purpose cream until whipped. Add your creamcheese. Add 2 tsp vanilla. Add cherry brandy (2 tblsp). Add the orange cream and the condense milk. Whip all together until mixture is fine. Pour into pan. Design your peaches on top as desired..
Pre heat your oven in 180C or 325F.
Bake for 45mins. (Mine was a bit toasted above due to my small oven toaster that i used.).
Refrigerate for 3 to 4 hours. Serve and enjoy.
Do you have a favorite No Bake Cheesecake? See these other Orange Creamsicle Desserts that I I'm thinking swap peach gelatin and frozen peaches for the orange and use the recipe as posted. These baked peaches taste like pie, minus the guilt of eating one! Prepare the filling by beating the eggs and cream cheese together. Add the sugar and vanilla and continue beating until well blended.