White Chocolate Strawberry Cheesecake. Making rich, creamy cheesecake is easier than you think. Add melted white chocolate and mix with a spatula. In a bowl, mix half the strawberry jam with the chopped strawberries.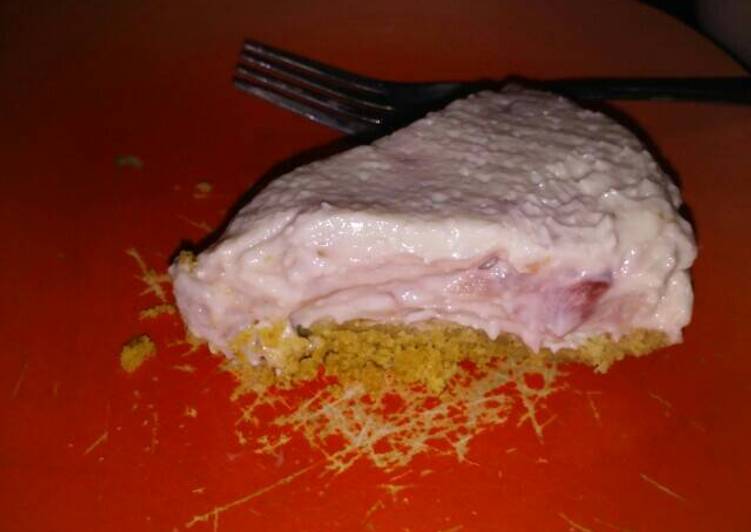 I used Cream Cheese, Icing Sugar, Vanilla, Cream, Chocolate and Strawberries to make one of my most favourite Cheesecake Fillings EVER. Strawberry White Chocolate Cheesecake is a crowd-pleaser the whole family will enjoy! This beautiful homestyle dessert has a creamy texture with a crunchy graham cracker crust and fresh strawberries on top! You can have White Chocolate Strawberry Cheesecake using 8 ingredients and 6 steps. Here is how you achieve it.
Ingredients of White Chocolate Strawberry Cheesecake
You need 1 package of 11 oz ghirardelli white chocolate.
Prepare 1 package of 8 oz cream cheese.
You need of fresh strawberries.
Prepare 2 TB of butter.
It's 2 TB of milk.
Prepare 1 cup of grhamcracker crumbs.
Prepare 2 TB of butter.
Prepare 1 TB of sugar.
This cheesecake recipe is easy to make for Easter, Mother's Day, holidays, parties and potlucks. Easy White Chocolate Strawberry Cheesecake is creamy, sweet, and indulgent. It's the perfect dish to bring to a party or make for a holiday! Creamy, sweet, and indulgently rich, you're going to love this Easy White Chocolate Strawberry Cheesecake.
White Chocolate Strawberry Cheesecake step by step
Melt 2 tablespoons of butter, stir in sugar and grhamcracker crumbs.
Press mixture into 9in pie pan and set into fridge to cool.
Using double broiler method melt butter and strawberries and stir for a minute add milk.
Add cream cheese and stir until it starts to get smooth.
Add white chocolate chips add stir till it's starts to get smooth then remove from heat and stir until it is smooth.
Place mixture into crust and let it set until it gets firm.
The best part about this dessert? A no-bake strawberry and white chocolate cheesecake like no other! Chock-a-block with strawberries throughout the cheesecake, not just on top! Recipe by: yummers Devon, England, UK. This was the first cheesecake I've ever made and I absolutely love it!