Banana Bread with Cheesecake Filling. Cheesecake-filled Banana Bread. featured in Cream Cheese Recipes. Pour the remaining banana batter on top of the cream cheese filling. That is exactly what happened with this Cheesecake-Stuffed Banana Bread.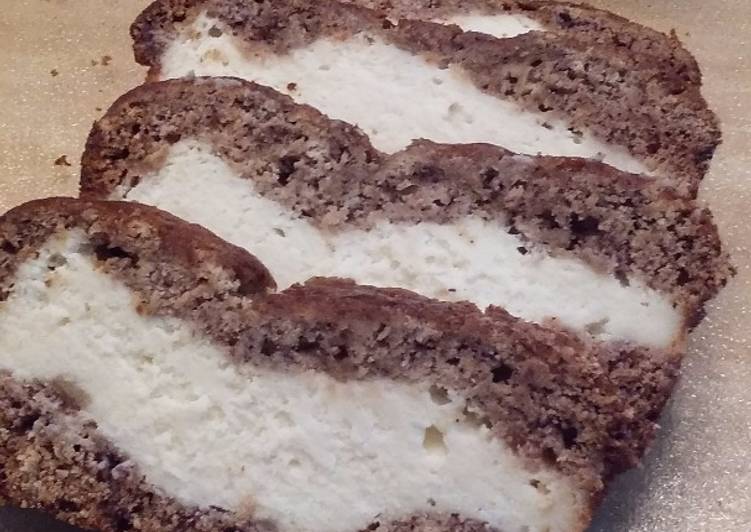 Banana Bread is one of my favorite baking recipes for breakfast, afternoon tea or as a late night snack. Banana Bread Cheesecake is melt-in-your-mouth, delicious combo of smooth and creamy vanilla cheesecake and the moistest chocolate chip banana bread. You get two delicious treats in one! You can cook Banana Bread with Cheesecake Filling using 16 ingredients and 7 steps. Here is how you achieve it.
Ingredients of Banana Bread with Cheesecake Filling
Prepare of Banana Bread Batter :.
It's 2 of large overripe bananas, mashed.
It's 1/3 cup of unsalted butter, melted and slightly cooled.
It's 3/4 cup of brown sugar.
It's 1 of large egg, at room temperature.
You need 2 tsp. of vanilla extract.
Prepare 1 tsp. of baking soda.
You need 1/2 tsp. of ground cinnamon.
It's 1/8 tsp. of salt.
You need 1 1/2 cup of all purpose flour.
It's of Cheesecake Layer :.
It's 8 oz. of cream cheese, softened to room temperature.
Prepare 1/4 cup of granulated sugar.
It's 1 of large egg, at room temperature.
It's 1/2 tsp. of vanilla extract.
Prepare 3 tbsp. of all purpose flour.
The banana bread loaf never rose to its full potential given the girth of said layer of cream cheese filling. This Pumpkin Cheesecake Banana Bread is perfect for dessert but also doubles as an amazing breakfast – it's pretty amazing no matter what time you eat it! I took a cue from Averie and added a cream cheese layer in the middle that totally rocked my world AND makes this bread extra special. Cheesecake Stuffed Banana Bread…just when you thought banana bread couldn't get any better, I went ahead and took the standard quickbread downtown.
Banana Bread with Cheesecake Filling step by step
Preheat the oven to 350°F. Spray a 9×5" loaf pan with non-stick cooking spray, then line the bottom with parchment paper, letting it overhang on the sides to make it easier to get the finished bread out of the pan..
In a medium bowl, whisk together the mashed banana, butter, brown sugar, egg, vanilla extract, cinnamon, baking soda and salt. Then use a rubber spatula to fold the flour in until just combined. Set it aside..
In a separate small bowl, use a hand held mixer to beat together the cream cheese and sugar. Then beat the egg and vanilla in. Lastly, beat in the flour until everything is well combined..
Spread half the banana bread batter into the prepared load pan. Then spread the cheesecake batter evenly over the batter. Lastly, spread the remaining bread batter over the top of the cheesecake batter..
Bake for 50-60 minutes, or until a toothpick inserted into the center comes out clean. Around the 25-30 minute mark, place a piece of foil loosely over the load so it doesn't burn across the top..
Allow it to cool in the pan for an hour or so, then transfer the finished loaf onto a wire rack to cool completely before slicing and serving..
Store bread in an airtight container or wrapped tightly in cling wrap in the fridge..
This cream cheese filled banana great with coconut oil is soft, moist and very flavorful. It is a little more special than regular banana bread, as I decided to finally experiment and add a cream cheese layer in between the banana bread layers. The cheesecake layer turned this dessert into a creamy fluffy. Indulge in this glorious mash-up of two favourite sweet treats – a banana bread base topped with creamy vanilla cheesecake, sliced bananas and salted caramel. This has a delicious cinnamon swirl and cheesecake filling with walnuts hidden inside.