Cookies-n-Cream Cheesecake. Add crushed cookies to the mixture and gently fold together. Ensure the cheesecake batter is fully mixed. Try out this Cookies 'N Cream Cheesecake recipe and you'll be agreeing with me on that one.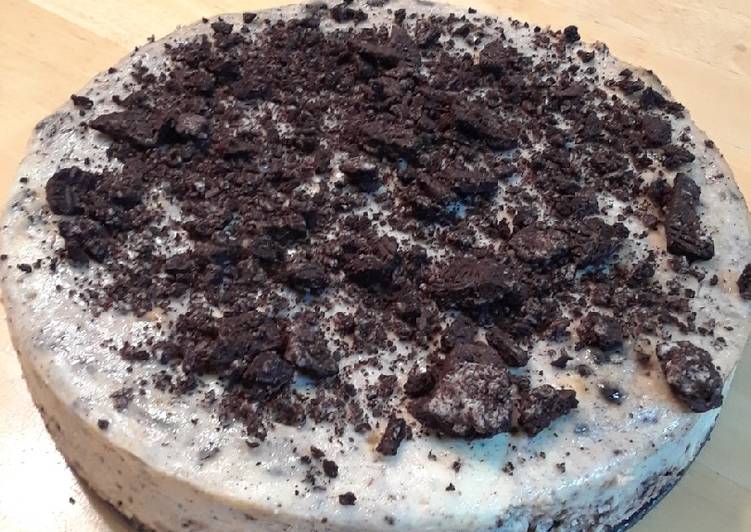 Cookies N' Cream Cheesecake: I love cheesecake, you most likely love cheesecake, everyone loves cheesecake. Cheesecake is our number one, and Oreos are our favorite cookie, so you can only imagine how deadly this combination is for us. Make cheesecake: In a large bowl using a hand mixer beat cream cheese and sugar together until no lumps remain. You can have Cookies-n-Cream Cheesecake using 10 ingredients and 7 steps. Here is how you achieve that.
Ingredients of Cookies-n-Cream Cheesecake
Prepare of Oreo Crust:.
Prepare 20 of oreo cookies.
It's 5 tbsp. of unsalted butter, melted.
You need of Cheesecake Filling:.
It's 3 (8 oz.) of each brick style cream cheese, at room temp.
You need 1 cup of granulated sugar.
It's 1 cup of sour cream (or plain yogurt) at room temperature.
You need 3 of large eggs, at room temperature.
It's 1 tbsp. of vanilla extract.
Prepare 18 of oreos.
Add eggs, one at a time, then stir in sour cream. Pressure Cooker Cookies N Crème Cheesecake. Add a sour cream topping on the warm cake and allow to cool for an hour before placing the cheesecake into the refrigerator. If you want to remove the side of the pan from the bottom before placing in the refrigerator, it is fine.
Cookies-n-Cream Cheesecake instructions
Make sure your oven rack is in the lower third position and preheat the oven to 350°F. Grease a 9" springform pan and wrap aluminum foil tightly around the outside walls of the springform pan. Set it aside..
First, make the crust. In a food processor, pulse the Oreos into fine crumbs. Pour the crumbs out into a large bowl. Stir the butter and the cookie crumbs together until combined. Then press them tightly into the bottom of the springform pan. I use the bottom of a metal measuring cup to really tightly pack the crumbs down..
Pre-bake the crust for 9 minutes, then remove it from the oven and set it aside as you prepare the cheesecake. While that's pre-baking, place the other 18 Oreos in the food processor and pulse just a couple of times, until coarsely crumbled..
Using a hand held or a stand mixer fitted with a paddle attachment, beat the cream cheese and sugar together on medium speed until it's smooth and creamy. Then add the sour cream (or yogurt) and vanilla. Switch to low speed and add the eggs one at a time, beating after each addition until just combined. Gently fold in about 3/4 of the crumbled oreos. Cover the remaining Oreos and set them aside for now..
Pour the filling into the crust. Place the springform pan into a larger roasting pan. Fill the roasting pan about halfway up with hot water. Place this into the oven for 45-60 minuted, or until the center is nearly set. There should still be a 2 to 3 inch wobbly spot in the center, which will set as it cools..
Once the cheesecake is done, turn off the oven and open the oven door a crack. Leave the cheesecake in the oven for 1 hour, then take it out, run a butter knife gently around the edges of the cheesecake to help loosen it from the springform pan and place it, still in the pan, on a wire rack and allow it to cool completely..
Once it's cooled to room temperature, cover it and place it in the fridge for at least 4 hours. When you're ready to serve, remove the rim of the pan and sprinkle the remaining 1/4 of the crumbled Oreos over the top. Cut into slices with a large, sharp knife and serve. Store any remaining cheesecake covered in the fridge for up to 4 days..
It's been years since I made this cookies n cream cake but I've been in such a baking mood lately. Which is really rare because normally I hate being in my kitchen when it's so pretty outside. This recipe for Cookies and Cream Cheesecake Bars is delicious and addicting. Photographs and an easy how-to video included. These bars have an Oreo cookie crust topped with creamy Oreo cheesecake.