Dark Chocolate Walnut Cherry Bars. Shira Bocar shares a healthy way to satisfy your sweet tooth with a no-bake recipe for Dark Chocolate Walnut Date Bars. Antioxidant-rich tart cherries and dark chocolate combined with whole grain oats give these granola bars a major nutritional bang for their buck. Walnuts also add protein and heart-healthy fats to give your little ones long lasting energy, without the sugar crash.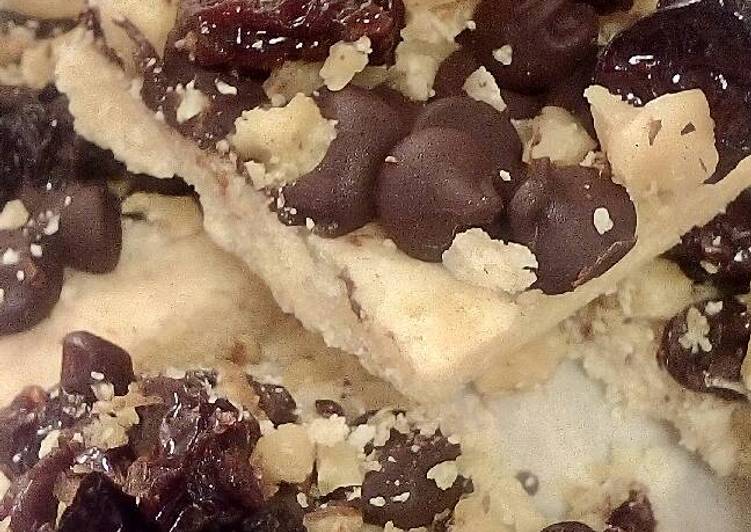 Enjoy the mouth-watering combination of chocolate and cherry in these lavish dessert bars. Our Cherry Chocolate Bar is so packed with healthy flavonoids and other anti-oxidants. We all want to seek out tasty food that not only nourishes our body, but also positively impacts the land and community it came from. You can have Dark Chocolate Walnut Cherry Bars using 6 ingredients and 3 steps. Here is how you cook that.
Ingredients of Dark Chocolate Walnut Cherry Bars
It's 1 cup of Grass Fed Cow Butter, softened.
You need 1/2 cup of White Sugar.
Prepare 2 cups of Flour.
You need 1 package of Dark Chocolate Chips.
It's 1 cup of Chopped Walnuts.
Prepare 1 cup of Dried Cherries.
So, our Kashi team traveled to Ghana to do just that for chocolate, and what we found was that. Homemade ganache is just about the easiest chocolate recipe out there, a dead-simple mixture of melted chocolate and hot cream, whisked until smooth, then chilled until fudgy. Gooey and delicious with bing cherries, whole cashews and almonds drizzled in dark chocolate for that perfect snack fix no matter where your day takes you. A satisfying, nutty snack that only seems indulgent.
Dark Chocolate Walnut Cherry Bars step by step
Mix ingredients and press into a 9 x 13 inch pan. Bake for 15 minutes, until lightly browned..
Sprinkle the dark chocolate chips all over your lightly browned crust, chopped walnuts and cherries..
Bake for about 5 minutes, until chocolate chips are softened. Cool & Eat!.
Chewy dried cherries and cranberries make the dark chocolate chunks taste even richer, somehow. Imagine something as sweet as cherry pie, combined with dark chocolate and conveniently-sized to fit in your purse or desk drawer. Made with bing cherries, cashews, almonds and dark chocolate, it's the perfect gooey, delicious snack for wherever your day. Tasty dark chocolate cherry cashew bar. Cashews, Dark Chocolate Flavored, Coating (Palm Kernel Oil, Chicory Root Fiber, Sugar, Cocoa Powder, Soy Lecithin, Natural Flavor, Salt), Almonds, Glucose Syrup, Cherries, Honey, Peanuts, Cranberries, Raisins, Rice Flour.