Almond Butter Chocolate Bars with Pistachios. Pour over the bars, tilting the pan to evenly coat the bars with chocolate. Add a few tablespoons of chopped pistachios on top. I don't know about you, but I get easily bored with having the same 'snacks' all the time.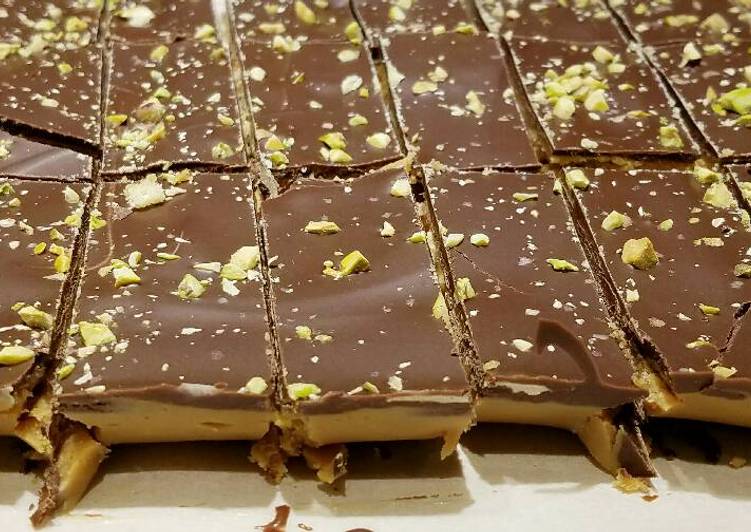 I have gotten into making homemade candy bars. These chocolate bars are crunchy & sweet in the best possible way. They are gluten-free, dairy-free & egg-free but you wouldn't know it by the taste. You can cook Almond Butter Chocolate Bars with Pistachios using 10 ingredients and 6 steps. Here is how you cook that.
Ingredients of Almond Butter Chocolate Bars with Pistachios
You need 1 cup of almond butter (no sugar added).
Prepare 2 of Tbsp(+) coconut oil.
You need 1/4 tsp of almond extract.
Prepare 1/4 cup of pure maple syrup.
Prepare 1/2 cup of gluten-free chex rice cerial.
It's 1/2 cup of whole pistachios (shells removed).
It's 1 tsp of finely chopped pistachios.
It's 1 pinch of sea salt.
It's 1/2 bag of Enjoy Life semi-sweet chocolate chips.
It's 1 Tbsp of creamy peanut butter (no sugar added).
Add all dry ingredients to a large bowl: pistachios, pecans, oats, chocolate chips, flaxseed, and salt, if using. Pour wet ingredients over dry ingredients. While this flavor combination is delicious, the use of peanuts, sugar, and low-quality dairy can make it challenging to find a healthy store-bought candy. They're filling, high in protein and fibre, and make the perfect treats for breakfast.
Almond Butter Chocolate Bars with Pistachios instructions
Line a glass baking dish with 2 sheets of parchment paper for easy removal of candy bars. Leave the paper long for handles, like pictured..
Place chex mix & the 1/2 cup of whole pistachios into the bottom of the glass dish in an even layer..
Melt almond butter with 2 Tbsp (+) coconut oil. Add almond extract & maple syrup. Your almond butter should be hot & liquefied enough to poor. If it isn't wet enough, add more coconut oil. Poor hot almond butter mixture evenly all over the cerial & nuts. Cool in refrigerator for at least a half hour until set..
Melt half of a bag of chocolate chips & add a full tablespoon of creamy peanut butter. I do this to cut the sweetness of the chocolate chips & to soften up the chocolate for easy cutting. Stir in the peanut butter into the melted chocolate until you can't see it anymore. Poor hot mixture evenly all over the top..
Sprinkle sea salt & the last teaspoon of finely chopped pistachios on top of the chocolate immediately so it will stick to the melted chocolate. Cover & refrigerate for an hour, if you can wait that long..
Slice into preferred candy bar size & enjoy! Store in refrigerator for best keeping. ♡.
Naturally sweetened, so moist and delicious, and the perfect wholesome snack on the go! On top of the base is chocolate, of course. This helps the chocolate stay soft even after cooled. You won't be able to resist these. Add the almonds, pistachios, pepitas and puffed quinoa to the date mixture and mix together with your hands.