Baked Apple's n Ice Cream. Prepare Something Amazing & Delight Your Taste Buds With Kraft Ice Cream Recipe. Finally, serve in bowl with the caramel/nut sauce around base of each apple. Vanilla ice cream in the center drizzled with caramel ice cream topping is another incredible addition to them.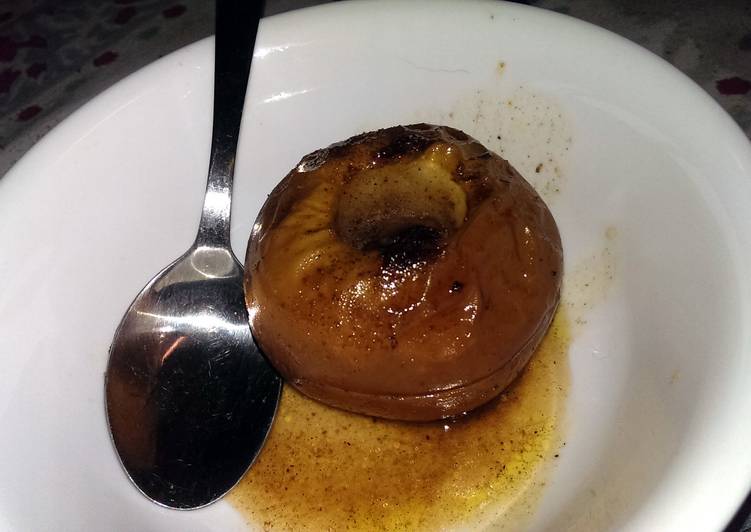 Scoop some of the liquid from the baking dish into each bowl along with each apple. Then add a splash of cold heavy cream if you like (I do) or a scoop of ice cream or yogurt—something cold and. Tips For Making Baked Apples: Use a melon baller to remove the core and seeds from your apples. You can have Baked Apple's n Ice Cream using 6 ingredients and 9 steps. Here is how you cook that.
Ingredients of Baked Apple's n Ice Cream
You need 6 of apples.
It's 6 tsp of butter.
You need 6 of dried dates.
It's 1 of vanilla sugar.
It's 1 of chai spiced sugar.
You need 1 of Hokey Pokey ice cream (or favourite flavour).
Anyway, I hope that you like these Baked Apple Ice Cream Bowls. It is always good to go back, as a food blogger, and bring some of the old recipes back to the forefront. Spoon the sauteed apples into dessert dishes and top with ice cream, whipped. These Baked Apples are perfect for Fall or anytime you want a delicious and quick dessert.
Baked Apple's n Ice Cream instructions
Preheat oven to 180°F.
Core apples.
Using a sharp knife cut all the way around the skin of the apples (half way down).
Stand apples in a baking dish.
Place 1 tsp each of vanilla sugar and Thai spiced sugar into each apple (you can use any flavored sugar or simply use brown sugar).
Place a tsp of butter into each apple and press a dried date into it.
Pour enough water into dish to cover the base.
Bake in oven at 180°F for around 25 minutes or until apples are golden n soft.
Serve with Hokey Pokey ice cream (or ice cream of choice).
As tradition goes, this September we hopped around from one orchard to another, picking sweet and juicy. How to Make Baked Apples with Vanilla Sauce. This recipe is fairly easy and can impress your guests with your abilities. In a small bowl, combine sugar, cider, flour, cinnamon, nutmeg and ginger; pour over apples. Spoon oat mixture evenly over apples.