Chocolate Coconut No-Bake Cookies. How are you doing on this fine day? With all the fun I've been having with coconut lately, I figured I'd keep playing. These chewy chocolate cookies are crazy popular, and for very good reason!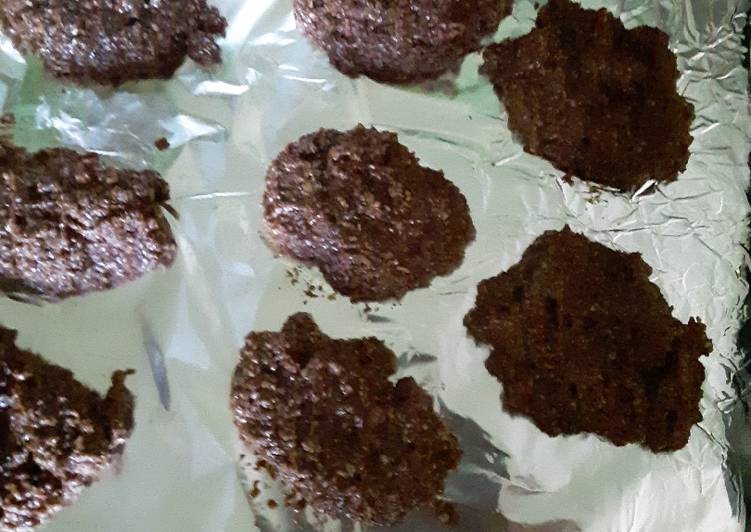 I remember standing as close as possible at the stove when Mama would make these, just so I could help in any way possible. From pouring in the oats, to carefully stirring as I got a little older. They're easy to make and freeze wonderfully. You can cook Chocolate Coconut No-Bake Cookies using 7 ingredients and 3 steps. Here is how you achieve that.
Ingredients of Chocolate Coconut No-Bake Cookies
You need 2 1/2 cups of quick oats.
It's 2 cups of sugar.
It's 1 stick of butter.
It's 1/3 cup of baking Cocoa.
Prepare 1 cup of sweetened Coconut flakes.
You need 1 tsp of vanilla extract.
It's 1/2 cup of milk.
My daughter works at a summer camp, so I send treats. Instead of a cookie jar we use a coffee can and call it the Wrangler Feeding In a microwave, melt baking chips and shortening; stir until smooth. These healthy no bake cookies are so easy to make! Stir or whisk the wet ingredients These healthy no bake cookies are best served cold because the coconut oil is soft at room temperature.
Chocolate Coconut No-Bake Cookies step by step
In a largish saucepan, bring sugar, butter, cocoa, and milk to a boil. Let boil 5 min stirring to combine..
After boiling for 5 min, remove from heat, add oats, Coconut, and vanilla extract, and stir to combine..
Put spoonfuls onto wax paper or foil and allow to set for 45 min to an hour..
These Chocolate Coconut No-Bake Cookies are Gluten Free, Dairy Free and Sugar Free. I love that these are a one-pot, no-bake cookies and that they work very well shaped into cookie molds. If you choose to spoon them into clusters make sure to press them together a bit, or squish in a ball in. Whisk together the flour, cocoa powder, baking powder, baking soda and salt in a medium bowl. This reinvented healthier no-bake cookies recipe is as delicious as the old-school original with coconut oil and no refined sugar.