Triple Citrus Mixed Berry Cheesecake.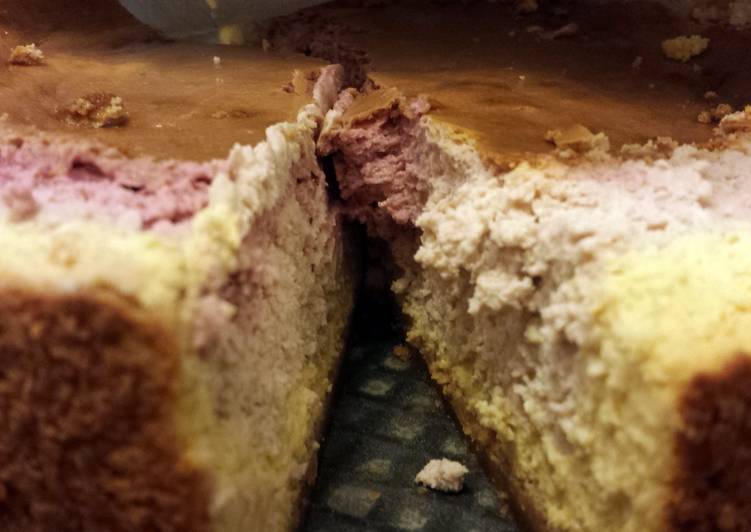 You can have Triple Citrus Mixed Berry Cheesecake using 11 ingredients and 7 steps. Here is how you achieve it.
Ingredients of Triple Citrus Mixed Berry Cheesecake
Prepare 7 each of eggs.
You need 40 oz of cream cheese.
You need 2 of lemons.
It's 2 of limes.
Prepare 1 packages of Strawberries.
It's 1 packages of Raspberry.
Prepare 1 packages of blackberry.
You need 1 1/3 cup of sugar.
It's 5 of Navel Oranges.
You need 1 packages of Graham Crackers.
It's 1/2 cup of Butter.
Triple Citrus Mixed Berry Cheesecake step by step
Zest all citrus and place the zest in separate bowls. Juice fruit placing oranges in their own bowl. Combine blackberries lime juice and zest in a small pot and reduce. Combine raspberries and strawberries with lemon and zest in another pot. Same for Oranges and zest..
Place eggs and cream cheese together and mix until smooth like baby bottom. This will take some time..
Preheat oven to 350..
Crush and mash crackers and melted butter and spread evenly on a 9 X 3 Spring form pan. Then bake in oven 350 for 5 min..
Take your reductions and place 3/5th of the cream cheese and egg whip into its own bowl and the other 1/5th in another ,add your reductions. Orange in largest bowl..
Take your crust after it has rested and pour the orange mix first. Pink mix then purple (lime blackberry last). Toothpick designs..
Place pan into oven as far from direct heat on its top and turn 180°F at 40 min and temp. If below 115°F continue and turn and temp every 15 min. Once above 115 turn oven down and pull after 1 hour or when temp is 160 in the center and toothpick comes out clean..